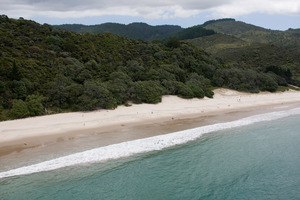 The campaign to preserve New Chum Beach in Coromandel from intrusive development has won the backing of the regional council - but it won't be paying for it.
Waikato Regional Council yesterday agreed to work with the community, Thames District Council, the Government and the landowners to protect public access to the pristine beach.
But the council support did not stretch as far as Thames Coromandel District Council's decision to consider purchasing the reserve, and the regional council said it had no money for such a purchase.
Waikato Regional Council chief executive Bob Laing said: "I have made it very clear to the group that the council does not have large sums of money to purchase New Chum Beach.
"I've given a clear message that at this point and time that's not on the table."
The land owners of Te Punga Punga Station, which includes New Chum Beach, are in the process of applying to Thames Coromandel District Council for a revised resource consent for 12 houses facing Whangapoua town and not in the New Chum catchment.
The land owners already have planning consent for five houses facing the Whangapoua side.
In 2010, the landowners initially proposed to build 21 houses on the site. This met with widespread public opposition and negative reaction.
The scaled back application will be lodged by the end of next month
Under it, at least 80 per cent of the property would be kept free of development with public access to the beach reached through a reserve.