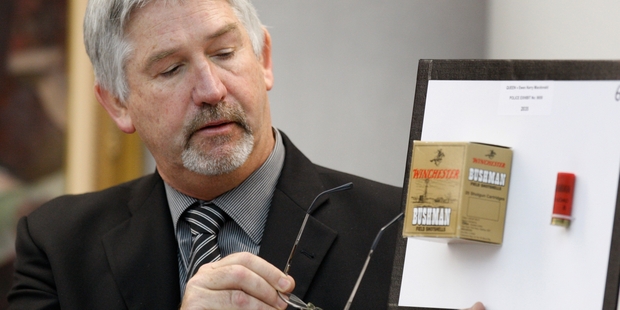 Ewen Macdonald will forever be ashamed that he carried the "dark, terrible secret" of his past actions against Scott Guy - but he is innocent of murder unless proven otherwise, his lawyer says.
The first and only defence witnesses in Macdonald's murder trial took to the stand in the High Court at Wellington today after more than three weeks of evidence from the Crown.
Macdonald, 32, has denied shooting dead his brother-in-law Mr Guy, 31, in the pre-dawn darkness of July 8, 2010 after growing tensions over the Feilding family farm they co-managed.
In his opening address to the jury, defence lawyer Greg King said he would not be calling his client to give evidence.
The jury had heard more than 40 hours of evidence from Macdonald in his interviews with police - more than any other witness.
"Repeatedly he has explained his movements in the weeks and days leading up to his brother-in-law's death - what he did on that day, who he spoke to."
Mr King said everything Macdonald had told police was the truth, and the details he gave had been shown to be materially correct.
"Of course what he didn't do was tell the truth about those events nearly 18 months before [Mr Guy's death] ... and it's to his eternal shame that he did not do that."
Mr King was referring to arson and vandalism attacks Macdonald later admitted to carrying out on Mr Guy's home - acts the Crown alleges were designed to intimidate Mr Guy and his wife Kylee away from the family farm.
Mr King said the fact his client had admitted those acts did not change, alter or influence the presumption of innocence unless proven guilty.
His client also had the right to silence - yet he had willingly spoken to police, all the while carrying the "dark, terrible secret" of his acts.
Mr King said the onus of proof was on the Crown from the beginning to the end of the trial.
"He has to prove absolutely nothing."
The standard of proof the jury had to apply - beyond reasonable doubt - meant they must be sure and certain before they could convict.
Mr King said it was not enough to say Macdonald might have or could have murdered Mr Guy.
"It's not even enough to say that he probably did it ... or even very, very likely."
There was "an abundance" of doubt, which he would touch upon in his closing statement tomorrow.
Mr King said the trial had been held in the "midst of a media circus" but it was necessary for the jury reach a verdict without being influenced by prejudice, sympathy or emotion.
Expert defence witness Peter Shelton today raised questions about the testimony of Crown witness Derek Sharp, who heard the sound of two gunshots on the morning of Mr Guy's death.
Mr Sharp told the court his digital alarm clock showed the time was 5am - some 17 minutes after the Crown says Mr Guy was shot.
But he said his alarm clock was about 15 minutes fast due to the interference of high-tension power lines nearby.
The defence says timing is crucial to the case.
Mr Shelton, an electrical engineer, said he carried out tests to measure the electromagnetic field near Mr Sharp's house.
Directly beneath the lines he measured a field of 2.23 microteslas, while closer to the house he measured 0.12 microteslas - which was "substantially less" than the fields produced by normal household items.
"That would have no effect whatsoever on the time of a digital clock."
Under cross-examination, Mr Shelton said he had not seen or inspected the digital clock, and had not sought permission to test inside the house.
Gunsmith Mitchell Maxberry, a United States regional and national shooting champion who now lives in Lower Hutt, also gave evidence for the defence.
Mr Maxberry said a double-barrel rifle like that on the Guy family farm could fire two shots in about one second.
"It's as fast as you can pull the trigger twice."
He could then open the breech, remove the spent cartridges and reload another cartridge in seven seconds, allowing him to fire a third shot.
The Crown case is that Mr Guy was shot twice - but one witness earlier gave evidence they heard three shots.
ESR forensic firearms expert Kevan Walsh told the court today it was his opinion that Mr Guy was shot twice - once in the neck, and a second time as he fell with his arm raised.
He was likely shot at a distance of between 3.5m to 4.5m - a distance that was too great for Mr Guy to reach for the shotgun.
Mr Walsh said he could not rule out the double-barrel shotgun on the Guy farm as the murder weapon - but he also could not rule out any other 12-gauge shotgun.
Under cross-examination, Mr Walsh said he saw nothing in his examinations to show there was more than two shots fired.
But he could not rule out further shots that did not strike anything.
The Crown and defence lawyers will sum up their cases tomorrow before Justice Simon France and a jury of 11.
- APNZ