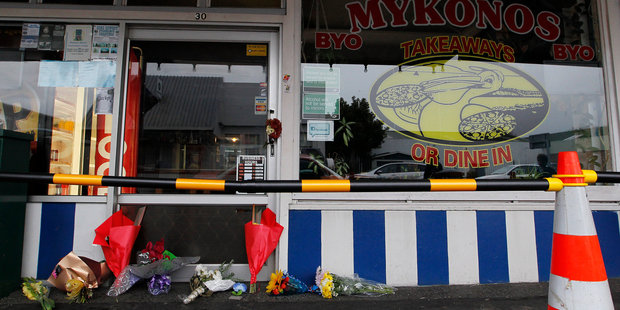 The neighbour to much-loved Paeroa pizza store owner Jordan Voudouris yesterday described the horror of discovering her friend dead on the pavement.
Police yesterday confirmed 55-year-old Mr Voudouris' death was a homicide but would reveal little else, including the results of a post-mortem examination.
Linda Hunter, the owner of neighbouring antique store Rusty's 22, told the Herald how she left her shop just before 6am on Monday when she discovered Mr Voudouris' body behind his Mykonos Pizza and Pasta store at the end of their shared driveway.
At first she thought the body was that of a young boy. "Then I ran into Jordan's shop yelling 'Pizza man, where are you?"'
A closer look when St John Ambulance staff arrived revealed her friend.
"I saw a whole lot of blood on his head and running down under his cheek and across the footpath."
Ms Hunter, who has owned her store for 10 years, said she was taking time off work as, like many others in the township, she was still in shock.
Another business owner, who asked not to be named, said news of the homicide was concerning and made her feel "slightly afraid" about leaving her store at night as she was usually the last to leave her premises.
She said Mr Voudouris was known to stay at his business until the early hours of the morning.
Detective senior sergeant Glenn Tinsley, of Waihi CIB, yesterday said police would likely wait until later today to reveal the preliminary results of a post-mortem examination.
Police earlier revealed they were looking at the possibility of trauma but have not elaborated further on injuries or whether weapons were involved.
They have also not said whether anything was taken.
Mr Tinsley said a team of about 20 staff were working on the case in conjunction with Bay of Plenty police to determine what, if any, links there may have been with an attempted robbery of a service station in Waihi and the aggravated robbery of a dairy in Katikati on Monday morning about the same time Mr Voudouris' body was discovered.
"We thank the local community for their support and ask that this continues and we would like to hear from anyone who noticed anything suspicious in the area either overnight or early [Monday] morning, who hasn't already spoken to investigators to ring the Paeroa Police Station on 07 862 8744," he said.