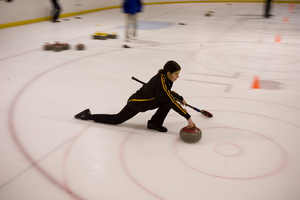 The roar of curling stones will compete with traffic noise in the heart of Auckland on Saturday morning.
Curlers will christen the new temporary Paradice ice rink in Aotea Square on Queen Street for an hour from 9am, when the Auckland Curling Club demonstrate their sport and invite anyone keen to give it a go.
"The Winter Olympic sport of curling has been played in New Zealand for well over 100 years and curlers here have played on a local ice rink since 1996, but this will be the first time that it has been so accessible for the public to see and try," said Auckland Curling Club president Allan Langille.
Curling was introduced in New Zealand by the first Scottish settlers in Central Otago in the 1860s. New Zealand competed at the 2006 Winter Olympics, and are well positioned to qualify again for the 2014 Games in Russia following a fifth placing at the men's World Championships earlier this year.

- APNZ