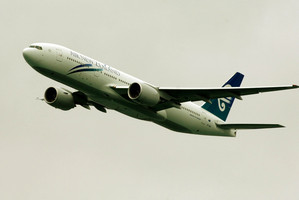 Colleagues gave a "textbook" emergency response when a pilot became unwell on an Air New Zealand plane bound for Auckland.
The Boeing 777-300 with 316 passengers on board had to turn back to Los Angeles two hours into the flight because of a "medical emergency".
Reports on Sunday suggested the pilot had suffered a heart attack, but Air New Zealand says the cause of the illness remains unknown. A spokeswoman said the pilot was not at the controls when he became unwell but was eating his in-flight meal. Two other pilots were at the controls.
The New Zealand-based pilot, who has not been named, was last night still under observation in hospital in Los Angeles but was "very much alive and well", Air New Zealand said.
New Zealand Airline Pilots' Association president Glen Kenny praised the other pilots for their response.
"It's not as drastic as it sounds," he said. "In this case, we still had two pilots to man the pilot stations so there was no risk at all.
"The crew members carried out their duties as per their training and returned the aircraft safely back to Los Angeles. A textbook response, done by the numbers."
The Civil Aviation Authority will be notified and the pilot will have to prove his fitness.
- APNZ
- APNZ