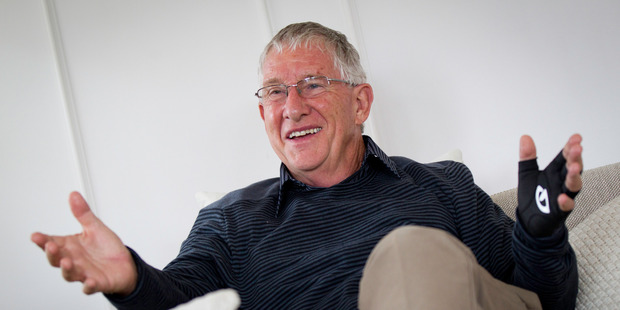 Parenting expert Ian Grant is on a new mission to unite fathers with their kids. Andrew Laxon reports
Ian Grant wants to make it clear he's not retiring. At 73 and with 11 grandchildren, he is resigning from The Parenting Place, the teaching and advocacy organisation for mums and dads which he and his wife Mary founded almost 20 years ago, and moving on to a fresh challenge.
His new job, which sounds suspiciously like his old one, is aimed squarely at fathers. Grant has updated a book he wrote 11 years ago Fathers Who Dare Win and started a trust of the same name to encourage New Zealand dads get involved in their kids' lives.
It's a hard sell these days as the conservative parenting guru - best known for his strong Christian convictions and ability to speak fluently to large audiences despite a lifelong stutter - has to compete with a plethora of other experts.
Television has a full line-up, from lecturing British Supernanny Jo Frost to psychologist Nigel Latta, who presents a more secular, liberal version of the "love your kids and show it" message pioneered by the Grants in the 1990s. After all this bombardment, do we really need another voice telling us that fathers need to lift their game?
Absolutely, replies Grant. He acknowledges that some of today's dads are doing a superb job, much better than his generation. But he passionately believes many boys and girls are still missing out on strong, loving relationships with their fathers and that this is the root cause of many of our biggest social problems.
"There's a father hunger in New Zealand," he says and launches into a story about two mothers who came to see him in the last six months, broken-hearted because their daughters had attempted suicide. He told them to get the girls' fathers on board.
"On both occasions the men stepped in. In one case the dad invited her to come fishing with him. This girl is back to normal. In fact they've just been down having a wonderful father and daughter time in the South Island.
"It's just incredible how - I'm not denying the work of mothers - but men underestimate their power in their child's life."
Grant started on the parenting route by accident. After years of running Youth for Christ rallies in town halls across the country and fronting a TV show for teenagers called The Herd in the 1980s, he and Mary were asked by Selwyn College to hold a parents' evening at their local church in St Heliers. When hundreds turned up to repeat sessions it was the start of Parenting with Confidence (later renamed Parents Inc and now The Parenting Place).
In the early days the organisation resembled a travelling roadshow, as Grant mixed practical parenting tips with a stream of bad jokes and heartwarming anecdotes. Audiences loved it but the couple's conservative moral stance and Christian background put them offside with the Labour Government. They were helped out by the late millionaire businessman Alan Hubbard, who was so impressed with their seminars that he put up $6.3 million for a new headquarters in Greenlane. Incoming Prime Minister John Key also liked their style and made sure the organisation got a $600,000 grant in last year's Budget.
By 2010 the organisation had reached more than 200,000 parents and diversified into "toolbox" courses for small groups at home and workshops at its new centre. But with more than 70 staff and annual spending of $4 million, it has been struggling to make ends meet. Last year it asked supporters for extra donations to make up a $200,000 loss and Grant was forced to publicly defend his $65,000 salary and sponsor-supplied car.
So did he feel any financial pressure to go? No, he says, just the knowledge that a new chief executive with fresh ideas had taken over and it was time for the old guard to move on.
"I felt like the elephant in the boardroom."
Plus he admits he was getting tired of hiding his light under a bushel. The Parenting Place has been scrupulous about offering a non-religious programme, despite the Grants' obvious Christian background, but this has sometimes gone to strange lengths. Their website refers to Grant leading "a national youth organisation" for 30 years, implying that even mentioning the Youth for Christ name could be bad for business.
Grant says he understands the need for a secular approach but he's looking forward to being more honest about where he's coming from. He hasn't exactly let himself be shackled by political correctness anyway - last year he publicly backed an American expert who called for victims to hit back against bullies, much to the embarrassment of his own organisation which put out a contrary media release a few days later.
Grant is unapologetic. "That's a reaction from the new thinking but I still reckon I'm right... We've become so PC that it's like you can't do anything. I'm not saying violence is right, I'm not saying that at all but I still think boys should be taught how to defend themselves."
It's easy to see how Grant gets himself in hot water with liberals. Trying to describe how men and women think and act differently, he uses the analogy of police attending a domestic violence incident; "The first thing they do is lock up the woman in another room because her words inflame. Women can be violent with their words but men tend to be violent with their hands."
His intended message is two-fold - fathers have to learn how to deal with their anger in a non-violent way but they are not "male mothers" and society shouldn't expect them to be.
Fathers parent differently, says Grant, and that's a good thing. They throw their babies into the air and laugh as mothers cringe. They push kids to take risks, when a mother's nurturing instinct is to keep them safe. And as in all good Hollywood movies, they are programmed to fight for (but not with) their women and their families.
Grant openly admits his mission to solve "father hunger" and to learn to control his own temper has been driven by his childhood in the working class suburb of Naenae in Wellington. His dad was a hard-working Scot, who was prone to angry outbursts and didn't know how to express his love for his children, while his mother never stopped believing in him.
Grant began to stutter soon after starting school. It's partly genetic, he thinks - his sons and grandsons have been affected - but he also traces the blame back to a particularly nasty female teacher who forced him as a left-hander to write right-handed.
His mother found a speech teacher who figured poetry might work, as most stutterers lose the habit when they sing. Grant felt secure enough to recite a funny poem at a local talent competition where the audience, bored to tears by piano recitals and ballet dancing, applauded wildly. As an adult he took that same self-confidence to an audition for TVNZ's Plain Speaking, a short religious programme. He stuttered so much he couldn't say his name to the floor manager but once the cameras came on, the words flowed. He got the job, lifted the meagre ratings overnight and his unlikely career in public speaking and broadcasting was born.
These days the couple live in an elegant, two-storey home in Mission Bay, with a swimming pool at the back and a front lawn that Grant has almost killed off and is desperately trying to rescue. His study, which looks like an English gentleman's library, contains an immaculately carved kauri rocking horse - one of his hobbies.
The Grants have three grown-up children and plan to catch up with their youngest in London when they go on a cruise from Amsterdam to Hamburg next year.
But first there's the new project. Grant wants to bring out more speakers like American neurosurgeon and former ghetto kid Dr Ben Carson, who he interviewed at a full Vector Arena in March, and has plans for father-led youth clubs for 10 to 14-year-old boys and girls.
He says it's never too late for men to change, as his own father eventually discovered.
"When I conducted his funeral, I didn't know the man my sons talked about because he became an awesome grandad."
On the web
fatherswhodarewin.com