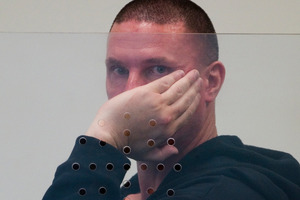 The man dubbed New Zealand's "most dangerous stalker" used the suicide of a young man to get close to one of his latest victims.
Glenn Green was jailed for two and-a-half years today after previously pleading guilty at the North Shore District Court to two charges of criminal harassment.
The charge carries a maximum sentence of two years but Judge Philippa Sinclair handed down a separate sentence for each charge because of Green's criminal history of more than 200 convictions.
Judge Sinclair told him his "narcissistic behaviour" was of grave concern to the court.
"You have maliciously targeted and preyed on these young women."
The 42-year-old - who uses a range of aliases including Glenn Mike Carlionne, Glen Dallas Goldberg, Glenn Richard Charles Holden and Glenn Colcord - harassed the two young women shortly after serving a prison sentence for similar offending.
According to the police summary of facts, Green approached a 19-year-old woman who had recently lost her friend to suicide.
He phoned the woman at her mother's home and claimed that he knew the woman's dead friend.
Green also sent text messages and demanded to meet her last November.
He then got abusive, calling the woman's cellphone number and landline. The woman's mother also received a letter with photos. She then changed her phone number to try to stop Green from calling.
But Green got around the change by contacting the victim's grandfather, and obtained her new number by convincing the elderly man that he was a friend of the man's granddaughter.
The woman suffered anxiety and feared for her safety to the point where she moved house and left town.
Her victim impact statement, read by Judge Sinclair, spoke of losing sleep. "Often I was so scared I could not go back to sleep in case I would dream again."
Green's second victim was a 27-year-old Christchurch woman who also had never met him.
Green pretended to be a woman called Amy and sent her 250 abusive and degrading text messages over the space of five days.
In one of the texts Green told the woman he was the president of a white supremacist organised crime gang - the Aryan Brotherhood. One of the messages told the woman to hang herself.
Judge Sinclair said the woman was terrified and feared for her safety and that of her family.
According to the court file, viewed by APNZ, Green wrote a letter to the court from Auckland Central Remand Prison last year and asked for a Restorative Justice meeting with the two victims.
Judge Sinclair referred to the letter. "That was a perverse and underhand way of obtaining your ultimate goal which was to meet and have contact with your victims."
The meeting never went ahead.
Judge Sinclair said Green had served 44 terms of imprisonment.
"Unfortunately, prison seems to be having little impact."
Green's lawyer Geoff Anderson acknowledged his client had an extensive history but said he received little support when he was last freed from prison and was a lonely person.
"He was overwhelmed, he didn't know what to do."
Mr Anderson said Green was sorry and hoped that counselling would help his client.
Judge Sinclair ordered a full psychological assessment on Green's release from prison.
Outside court, Detective Sergeant James Watson said he believed Green's victims would be happy with the sentence.
He said anyone being harassed should call the police immediately.
"Unfortunately over the years, some people have wanted it to go away and it has gotten to bad levels with Green, and perhaps if they had got hold of us earlier on, it would be better."
- APNZ