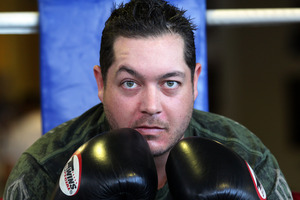 Radio Sport host Mark Watson has agreed to fight New Zealand cricketer Jesse Ryder next month.
The pair will make their boxing debuts on the undercard of the KFC Godfather of all Fight Nights, featuring Shane Cameron v Monte Barrett, on July 5 at SkyCity in Auckland.
Watson hosts The Cauldron on Saturday mornings at Radio Sport and will fight over three two-minute rounds with the cricketer.
Ryder is using the bout to get fit in his drive to return to cricket in a healthy state. He aims to reduce his 106kg weight to 96kg during the training.
Watson says he is a keen sportsperson looking for a different challenge.
"I'm just a keen sportsperson looking for a challenge in a different sport," Watson says.
"Will I be terrified on the night? Hell yes.
"But I want to front up. I need to push myself in something. It's really about me versus me."
He has been guaranteed it won't be promoted as a grudge match.
"I have no personal issue with Jesse and have been guaranteed it will not be promoted as a grudge match.
"I thought hard about this but concluded it's easy for talkshow hosts to be accused of hiding behind the mike."
Watson, who formerly ran Triathlon New Zealand's European base, for several years, is renowned for hard-hitting opinions.
In the past he has accused New Zealand cricketers, including Ryder, of failing to meet the standards of physical fitness required at elite level in other sports.