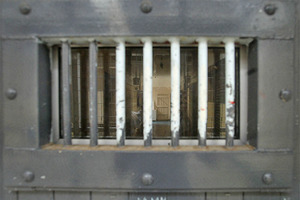 A Rotorua teenager, who, with a 12-year-old and others, robbed a dairy, is now serving time in the same jail as her mother.
Cayla Hulton-Donnelly, 18, was sentenced in the Rotorua District Court to two years and six months' jail after previously pleading guilty to a charge of aggravated robbery of the Rotorua Mini Mart on Hinemoa St on May 3 last year.
Judge James Weir said Hulton-Donnelly, with several others, decided to commit the aggravated robbery and Hulton-Donnelly was the prime mover as they went to her family member's house to get two knives.
Hulton-Donnelly went to the dairy with a 12-year-old and three other people. Judge Weir said the 12-year-old was the one who threatened the shop owner, which he found difficult to understand given he was the youngest person of the group.
He said Hulton-Donnelly was "right alongside" the 12-year-old. The dairy owner resisted and the group ran off with one of the other people taking a box of Corona beer.
Judge Weir said Hulton-Donnelly had previously been dealt with in the Youth Court on 15 matters, including a charge of robbery. She also had been dealt with in the Rotorua District Court for 23 different offences, including nine convictions for violence.
"You are only 18. What are we going to do with you?" Judge Weir asked.
The judge said the pre-sentence report was bleak and said while Hulton-Donnelly had been on remand in custody she had been seen behaving inappropriately and had been unco-operative.
Hulton-Donnelly's lawyer, Max Simpkins, said his client was the oldest of eight children and had left school at 12. She had taken on the mother role and would babysit the other children while her mother went out and socialised.
Mr Simpkins said Hulton-Donnelly had no father and a mother who was "hopeless". Hulton-Donnelly would be in the same prison as her mother, who was an alcoholic.
Judge Weir said he was sympathetic to Hulton-Donnelly's background. He said the starting point was four years' jail and reduced the sentence to give her credit for her guilty plea and to take account of her lawyer's submissions.
Another woman, 21-year-old Zarnia Te Arongimara Renata-Curtis, of Tauranga, was due to be sentenced in the Rotorua District Court on Friday but Judge Weir adjourned sentencing to see if a suitable address could be found for Renata-Curtis to serve home detention. She will now be sentenced on June 22.
The 12-year-old was referred to Rotorua Police Youth Aid. Two others are expected to stand trial for their part.
For more articles from this region, go to Rotorua Daily Post