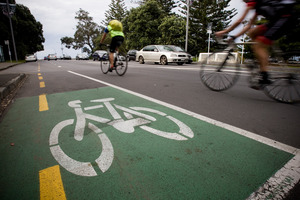 If the weather today has defied the usual Queen's Birthday jinx and dawned as fine, as the forecasters were predicting, then what a great day to join the throngs cycling the new waterfront cycleway.
Well, it would be, if this much-discussed piece of infrastructure was more than a vague and dusty item on a generation of politicians' wishlists.
Even for someone who abandoned his Raleigh three-speed the moment he could afford a motor-scooter, and has never felt the urge to look back, I can appreciate the appeal of the cityside waterfront for cyclists.
To begin with, it's flat. Then there's the view which is, to borrow a cliche, world-class.
And for locals and visitors alike, there are plenty of places along Tamaki Drive, and into the Tank Farm, where you can pause to eat, to visit, or to just lie back and soak up the atmosphere.
It's such an appealing and obvious improvement that it features every time a new vision for the rebirth of isthmus Auckland comes up.
But like a rainbow, it disappears just as mercurially. Like last week, when $10 million funding for a stretch of cycleway through part of the new Wynyard Quarter was erased from Auckland Council's 10-year funding plan.
As for the Tamaki Drive stretch, Auckland Transport is pondering a $14 million plan to make that dangerous roadway safer for cyclists. As this involves a busy arterial transport corridor, the New Zealand Transport Authority will be expected to help fund the project.
What is surprising is that no one has knocked on the door of Prime Minister John Key's special project, the $50 million New Zealand Cycle Trail, and asked for a handout.
Since Mr Key had his vision, on the stage of the February 2009 job summit, of a skeleton of cycle trails webbing out across the land, nearly $50 million of Crown money has been handed out to trailblazers up and down the country.
Eighteen "Great Rides" have been created. On top of the Government funding, a further $30 million has come from local communities. What will stand out to Aucklanders perusing the list is that not one cent of this $50 million is coming back to a great cycle trail near you or me.
In his greeting on the trail website, Mr Key, wearing his Tourism Minister hat, declares: "New Zealand is an outstanding visitor destination and there's no doubt that one of the best ways to explore it is by cycling."
He says the cycle trail "is designed to showcase the very best of our country - our spectacular scenery, unique culture and first-class Kiwi hospitality".
Now a cycleway along the waterfront from St Heliers to the Harbour Bridge would fit that description like a glove. In just a few kilometres, visitors would cycle along the edge of New Zealand's only marine "National Park", viewing not just the spectacular views out to Rangitoto and North Head, but urban landscapes as diverse as the millionaires' row of Paritai Drive, past Ngati Whatua home base at Bastion Pt, through the industrialised port, and the city CBD, into the expanding entertainment quarter beyond.
Mr Key says export dollars spent along the trail will "provide a welcome boost to businesses, and create jobs in communities near the trail".
He invited local authorities and communities from all over New Zealand to apply for trail money. It appears that no one in Auckland got around to applying, though feelers have been put out about help for a possible trail on Waiheke and another from the airport north.
The Great Trail website reveals that $45.6 million of the $50 million has already been spoken for, but no doubt the tap could be turned on again if Mr Key's arm was twisted hard enough and a decent case put.
The waterfront route pushes all the right buttons. It would also be the perfect introductory trail for visitors arriving in the country and wondering if they were up to the rigours of more rural trails down country.
Bringing Auckland into the Great Trail network would also be a nod in the direction of local taxpayers, who provide more than a third of the funds for the nationwide project.
The closest trail to Auckland, as things stand, is beyond Thames. Admittedly not as far away as the closest national park, halfway to Wellington, but still not very Auckland-friendly.