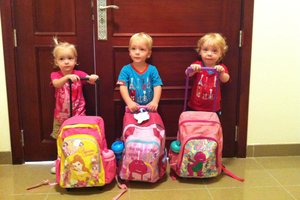 Jane Weekes waved goodbye to her tiny triplets as she left them with the daycare teachers they loved.
The trio, two-year-olds Lillie, Jackson and Willsher, had just won awards at the Qatari centre where they loved to spend their days.
Jackson was chosen as the most cuddly in the class, Willsher was awarded for being the most often at the teacher's side and Lillie was named the one most often accidentally breaking something, although Mrs Weekes maintains it was one of Lillie's brothers passing on the blame.
The three sat with their bananas and water and waved goodbye to mum on Monday morning.
It was the last time Mrs Weekes would see her beautiful children alive.
The brave New Zealand parents, Mrs Weekes and husband Martin, have spoken for the first time about the tragedy that has torn their lives apart.
Mrs Weekes said her children loved the people at the daycare centre in Doha's Villaggio Mall, which caught fire on Monday night (NZT) and killed 19 people.
"When I dropped them off in the morning they'd go and sit down with their drink and their banana with the teacher and they'd walk off holding her hand,'' Mrs Weekes said.
"They'd always give them a hug on the way out. It's heartbreaking to know that the teachers are gone as well. But we know they wouldn't have let (the children) go, they wouldn't have let them be on their own. They were with people that they loved.''
As they prepare to return to New Zealand, the Weekes parents told of the desperate hours outside the mall as rescue crews tried to save their children.
Mr Weekes said he and his wife waited at different entrances as smoke billowed from the mall.
"I just hoped that ... the kids were out. I just wanted to see them come around the corner,'' Mr Weekes said.
Three-and-a-half hours passed before a fireman emerged clutching a child.
"I called Jane to come down because things were happening ... at which time they brought Lillie out,'' Mr Weekes said.
"They brought Lillie out and they began working on Lillie, trying to get her to breathe. She was on the ground with four or five other little children, all being worked on by paramedics.
"Jane arrived ... I didn't know what to tell her. But I could see Lillie's foot and her little skirt and we were about 20 feet away. We couldn't get closer.''
Jane went with their daughter to the emergency ward of a nearby hospital.
Mr Weekes waited at the mall.
"I waited and waited and waited and in the end police started to pack up. And I hadn't seen the boys,'' Mr Weekes said.
"Jane was at the hospital at the emergency so I went to join her there but we didn't know where the boys were.''
The parents described how their triplets were all individuals: Lillie the oldest by one minute and the cuddly boss, Jackson with the curiosity to pull things apart and put them back together, and "big and gentle'' Willsher who had "something magical'' about him.
"There's sadness for who we've lost ... but there's so much happiness from the two years. The memories and the time we spent can never be taken away from us,'' Mr Weekes said.