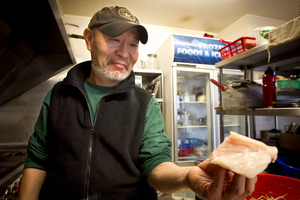 A new Auckland restaurant that serves only puffer fish is struggling to convince diners it is safe to eat the dishes on its menu.
Chowon Puffer, a Korean-styled restaurant in Takapuna, has a range of puffer-fish dishes - barbecued, boiled, steamed, deep fried and in noodles or rice porridge.
But because it does not have trained chefs to prepare the fish, some diners are worried meals could be poisonous.
The toxin tetrodotoxin - up to 1200 times more lethal than cyanide - is found in the puffer's liver, ovaries, testes, intestines and skin. There is no known antidote, and ingesting it can cause death within minutes.
But the restaurant owner, James Ahn, says he does not need trained chefs, as his fish is imported from South Korea with the toxins removed.
Mr Ahn said business at the Hurstmere Rd restaurant had been "slow" since it opened on April 18.
"I wanted my restaurant to be different from the others in New Zealand, but I know some people are still afraid that eating puffer fish is poisonous," he said.
"I have placed advertisements in the [local] Korean newspapers to tell customers our puffer-fish meat comes from a safe source and has New Zealand food safety approval, but outside the Korean community it is still difficult."
He remained optimistic demand for the delicacy would increase.
English-language teacher Ross Manson left the restaurant without ordering last weekend when he learned it did not have chefs trained to prepare puffer fish.
"I pride myself on being adventurous with food, but I am not stupid," said Mr Manson, who works in Japan.
Puffer fish is also a delicacy in Japan, where it is known as "fugu".
Japanese chefs are required to undergo at least three years of training and apprenticeship, followed by a test that only one-third pass, before they are allowed to prepare their first fish.
Traditionally, fugu chefs who caused the death of a customer by not preparing the dish correctly were obliged to commit ritual suicide using their own fish knife.
The Ministry for Primary Industries, which oversees food safety, said the onus was on the restaurateur to ensure puffer fish was safe and suitable.
Unless the fish is cleaned and prepared with the organs containing the toxin removed, it will become contaminated and eating it can paralyse nerves and stop lungs from functioning.
A ministry spokeswoman said its food safety staff had spoken to Mr Ahn, and the puffer fish at Chowon were imported "processed and ready to cook".
"While puffer fish is on the prescribed foods list, this is the first time [the ministry] has been made aware that it is being sold in New Zealand," she said. "Puffer fish is inherently risky food because some types contain potentially deadly toxins."
She said it was vital for restaurants serving puffer fish to source supplies from exporters who used specially trained cutters to process and prepare the product "to ensure these risks are properly managed".