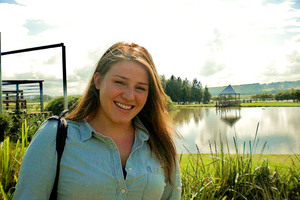 One of the worst-injured survivors of a road smash near Turangi which claimed the lives of three US students has spoken her first words since coming out of a coma.
Meg Theriault yesterday told her father, Todd Theriault, she loved him and asked nurses at Waikato Hospital for her "mummy".
The 21-year-old student awoke from a six-day coma on May 18, the same day the driver of the vehicle that crashed, 20-year-old Stephen Houseman, was charged over the tragedy.
Boston University students Daniela Rosanna Lekhno, 20, Roch Jauberty, 21, and Austin Brashears, 21, died after being thrown from the van, which drifted off State Highway 46 before being overcorrected and rolling three times near Rangipo.
They were part of a group of 16 who were travelling to the central North Island in a convoy to walk the Tongariro Crossing.
The other injured students were Kathy Moldawer, Alys McAlphine, and Emily Melton.
Miss Theriault underwent surgery the night of the accident and had been in intensive care in a critical condition.
After she woke, she was moved to the hospital's high-dependency unit and is recovering in a ward.
Yesterday's words were "heartening", mother Deb Theriault said of her daughter's progress.
"There is still a long journey ahead but today is one of those days we can look back on as being significant."
The Boston couple flew to their daughter's side following the May 12 accident and have been inundated with support from throughout New Zealand and the United States.
That included hundreds of messages from Miss Theriault's friends and former professors who described her as a bright, warm and enthusiastic student.
A relief fund has been set up in the United States for Miss Theriault and the finance department at her former university in Boston has contributed US$1000 ($1315).
"Thanks to all those people in the US who are supporting us, to those who have donated money for fundraising efforts and especially to all those people who have been praying for Meg," Mrs Theriault said.
Messages of support on Facebook and through Waikato Hospital included one from the mother of a close friend.
Ellen Waters wrote: "Meg, Todd, Deb, and Ben. Our hearts and love are with you every moment. Meg - come home safe and well - we miss your wonderful smile, your wit, and the friendship your have given unconditionally to Elizabeth since you both were 2."
One of Miss Theriault's professors said his message was for her to have the "confidence and energy that you usually give to those around you to yourself. Believe in yourself, fight for yourself and give yourself all the time you need to heal."
An assistant professor said Miss Theriault was an amazing student.
"You know, sometimes even though you don't know a person very well, you instinctively feel that this person is a genuinely nice human being and you feel lucky to know these people in your life. This is Meg."