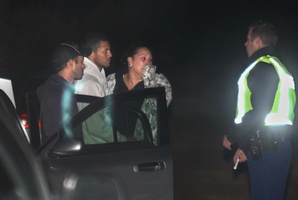 A group of 11 and 12-year-old schoolgirls were found last night after spending hours lost in the Kaimai Ranges.
The 10 girls, who were wearing light clothing, became lost on a school orienteering exercise.
They were found in bush a two-hour walk from the nearest road after an extensive police search.
The Tauranga Intermediate School pupils were to have returned at midday, but were not found until 8pm.
One mother was almost overwhelmed on hearing they had been found.
"I'm very, very happy," she said. "Very, very relieved."
A father who had been waiting for his daughter praised the search and rescue teams, saying: "They did a fantastic job."
Three police search and rescue teams and crews in two helicopters scoured an area around the Ngamuwahine Outdoor Education Lodge before finding the group about 8pm.
Sergeant Logan Marsh of Tauranga police said last night said the children were cold and tired when they were found.
They came down the hill guided by spotlights as the temperature dropped to 4C.
Eleven hours after they were due out of the bush, they reached the lodge and were treated by St John's ambulance staff.
From there, they were to be taken back to the school for a late dinner treat of pizza.
They were seen smiling and waving as they left the site just before midnight.
Earlier in the evening, anxious parents were seen speeding along a gravel road towards the lodge, about 24km from Tauranga.
The commander for the Western Bay of Plenty police area, Inspector Clifford Paxton, said there was concern for the children's welfare because they were wearing only light clothing.
Conditions were clear but cold, and temperatures had been expected to drop about 5C overnight.
"The parents were obviously very, very relieved that their children had been located," Mr Paxton said.
He said the children were found by a search and rescue team in an area which was a two-hour walk from State Highway 29.
School board of trustees chairwoman Pippa Smith said the students were members of a party of about 50 Year 7 students on a school camp.
They all attend the school's bilingual Whanau Unit.
School principal Brian Diver was not with the group, but went to the scene after learning what had happened.
The lodge, which is at the foot of the Kaimai Mamaku Forest Park, is owned by the school.
Its motto is "challenge through encouragement" and its activities include rock climbing, mountain biking, tramping and rafting.
The lodge website says students "will be faced with a challenging programme" during a five-day camp.
- additional reporting, Bay of Plenty Times