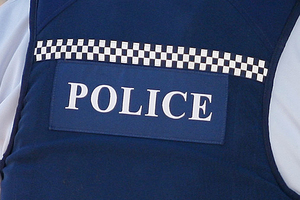 A shop owner hit an armed robber over the head with a mop and chased him down the road during one of four aggravated robberies in the Rotorua area in five days.
Police say there are concerned by the spate of recent incidents, and it was fortunate no-one was injured.
On Sunday at about 7pm a man in a balaclava entered the Koutu Rd Four Square store armed with a 30 centimetre kitchen knife.
"The offender removed a till, however, before leaving the shop he was confronted by the shop owner who struck the robber across the head with a mop, forcing the offender to leave empty-handed," said Detective Sergeant George Staunton.
The shop owner gave chase for about 100 metres before losing sight of the man, who was described as being of fat build, around 178cm tall, wearing a blue hoodie with a grey diamond-patterned sweatshirt over the top.
He left behind a distinctive pink Supre bag, and lost his leather motorbike gloves as he jumped over a fence.
On Thursday last week a man parked in his car on Curtis Rd, near Tikitere, was approached by two men thought to have been carrying a shotgun.
They stole the contents of his wallet before driving towards Lake Rotoma in a silvery/brown Nissan Skyline with a moulded boot spoiler and wide, low-profile tyres.
The offenders were around 175cm tall, of medium build. Both were wearing black hoodies, sunglasses, bandanas and long pants.
On Friday two men, one armed with what appeared to be a semi-automatic pistol, robbed the Gull Service Station on Edmond Rd.
"One demanded money from the till while the other stood nearby. They then ran out onto the forecourt area, one ran towards Homedale St and the other towards Linton Park," Mr Staunton said.
The fourth aggravated robbery occurred at about 7.30pm yesterday when two men brandishing knives entered the King Dragon Chinese Takeaway at the Owhata Shops and demanded money.
"The owners picked up a pot and a chair and told the offenders to leave. They then left running out onto Te Ngae Rd, heading east."
Mr Staunton said it was fortunate no one was physically hurt during any of the robberies. It was unusual for four similar incidents to occur in such a short space of time.
"We do not believe any of these four incidents are connected at this stage but would like to hear from anyone who has any information in relation to any of these robberies ... "
Information can be phoned in to Rotorua police on (07) 349 9400 or anonymously to Crimestoppers on 0800 555 111.
- APNZ