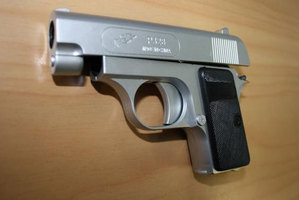 A 14-year-old will appear in court tomorrow over the shooting of a student at Paeroa College this morning.
Police say the alleged shooter was sitting in the class at about 10am when he placed a bandanna over his face, pointed a spring-loaded pellet gun at a classmate and shot him three times in the head and face.
A male teacher was also allegedly shot at as he intervened, and another three or four shots were fired into a wall.
The teacher disarmed the boy and kept him in the classroom until police arrived.
Eastern Waikato area commander Inspector Dana McDonald says a school emergency action plan was put in place.
He commended the teacher for putting himself in harm's way to protect students.
"In most situations like this we ask that people don't put themselves at risk and instead contact authorities by ringing 111, but in this case it appears the appropriate course of action was taken.''
The teacher was not hurt in the incident and the 14-year-old victim did not need hospital treatment.
The alleged offender was assessed at Thames Hospital and was discharged soon afterwards.
Mr McDonald said any traumatised students will be offered counselling tomorrow.
A 14-year-old will appear in the Hamilton Youth Court on a number of charges including firearms offences.
- APNZ