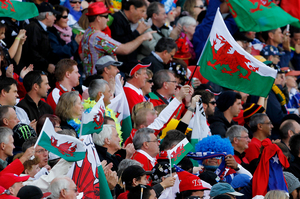 A Kaikohe man, described by a judge as a thug, has been jailed for three years for violence that left an English tourist in hospital with a broken jaw.
James Hosegood travelled halfway around the world to explore New Zealand and watch a few Rugby World Cup games, but had to give away his ticket to the bronze final at Eden Park.
Instead of cheering on the Welsh as they took on the Wallabies he was in Whangarei Hospital having steel plates inserted into his jaw.
His attacker, Johnson Kane Tau, 25, was sentenced in Kaikohe District Court after earlier pleading guilty to aggravated robbery.
Judge McDonald said the victim met Tau at Paihia's Pipi Patch Bar on the night of October 20, 2011. When the bar closed at 1am Tau suggested the victim join him and two other friends for a drink.
"No doubt he, visiting this country for the Rugby World Cup, thought you were just another easy-going Kiwi, he'd be safe to go off with," Judge John McDonald said.
Without warning, Tau punched the victim twice in the head, knocking him unconscious. One of Tau's friends fled but the other watched as he went through the victim's pockets, taking a cellphone and wallet. He also removed his watch.
Judge McDonald said it was fortunate someone found the victim lying unconscious on the road and called for help.
Tau was later found with the victim's cellphone in his pocket.
Mr Hosegood spent four days in hospital having teeth removed and metal plates inserted in his jaw.
"What he thought was going to be an enjoyable trip to this country of ours to watch a number of Rugby World Cup matches turned into horror because of what you did," Judge McDonald said.
Tau's thuggery would have a "ripple effect" on the region, which depended on tourism for jobs and income.
"When tourists decide to come to this country some of them will say, 'Well, we're not going to Paihia, we're not going to that Bay of Islands, we're not going further north, because if you go up there all that will happen to you is you will be bashed in the street by some thug'," he said.
Tau's attack on the English tourist was his second offence under three strikes legislation. If he is convicted of a third he will serve the maximum sentence, which, in the case of aggravated robbery, is 14 years.