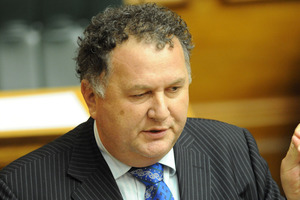 The Auditor-General will decide in the next few days whether to conduct an inquiry into the controversial decision by Labour MP Shane Jones when he was a Cabinet minister to grant New Zealand citizenship to a wealthy Chinese businessman.
Multimillionaire William Yan - also known as Yang Liu and Yong Ming Yan - was found not guilty yesterday of immigration fraud.
During his trial, Immigration officials alleged Mr Yan was granted New Zealand citizenship because of apparent political connections.
Labour leader David Shearer has stood down Shane Jones from the front bench but assured him he would be reinstated if the Auditor-General found he acted properly.
Mr Shearer asked the Auditor-General to investigate because Mr Jones had been "left in the impossible position of not being able to clear his name".
Mr Jones granted Mr Yan citizenship in 2008 against the advice of officials who said there were questions about whether he met good-character requirements because he had two passports, with two names and two birth dates, and was wanted in China for an alleged large-scale fraud.
Auditor-General Lyn Provost is giving the request priority.
Any inquiry involved a significant commitment of time and public funds, a spokeswoman said.
"We need to make sure we understand the issues, and what value we could add, before we make a decision.
"We expect to carry out the preliminary work needed to make that assessment in the next few days."
A number of MPs lobbied on behalf of Mr Yan at the time, including Dover Samuels, Pansy Wong and Chris Carter.
Mr Yan donated $5000 to both the National and Labour parties and held political fundraising events at his restaurant.
Yesterday, the High Court found Mr Yan not guilty of four charges relating to false declarations on immigration papers in 2001 and 2002 and one of using false written statements to get citizenship.
Justice Timothy Brewer said the issues before the court had nothing to do with claims of political connections, but concerned whether Mr Yan had dishonestly tried to gain access to New Zealand by providing false information on specific documents.
The onus was on the Crown to prove its case to the high standard of proof beyond reasonable doubt.
"In this case, having considered the evidence and the submissions of counsel and the inferences I am free to draw from the evidence, I have concluded that the most the Crown can achieve is a high level of suspicion but that is not enough.
"The Crown has not proved its case on any counts, interrelated as they are, beyond reasonable doubt."
The judge said he would give written reasons for his decision later.
Mr Yan made no comment when he left the court but Mr Samuels, his friend and former Labour minister of the Crown, welcomed the verdict.
Mr Jones has said he granted Mr Yan citizenship on humanitarian grounds because a senior official told him Mr Yan risked execution if he returned to China.
"I was told he would be executed, which is the reason the officials gave for him not wanting to go back to China.
"That to me comprised grounds for a humanitarian decision," Mr Jones said.
However, Mr Yan already had permanent residency status in New Zealand, which former Immigration Minister David Cunliffe declined to revoke when asked to by his officials.
A Department of Internal Affairs spokesman said officials were now checking their records to see whether Mr Jones was verbally advised that Mr Yan would be executed.