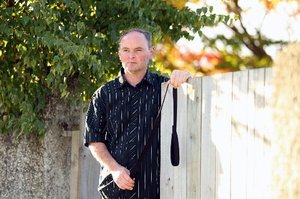 Stories making headlines across New Zealand at noon include representatives of God called in after a ghost allegedly scares Otago University students, more UFOs and Hamilton's Quidditch team on the look out for new members.
The University of Otago chaplain has been called in after a local ghost known as the Grey Lady terrified residents at one of the halls of residence. No sign of Wanganui Paranormal Investigations being called in at this stage.
A Hastings man has escaped conviction in a shonky court case after the family labrador bit the end off a stranger's thumb from under a gate, with the council dog-control officer neglecting to pass on that a witness had seen the bitten man aggravating the dog.
Flushing the toilet has become a major mission for some people in Hastings.
The NBL board has apparently elected to cower to the demands of Sky TV which has had religious consequences.
A 14-year-old handed over a few coins when robbed at gunpoint in a Whangarei carpark.
This is how to make 'wrong decisions' and rack up $255 million in debt in five years.
Move over Harry Potter, Hamilton's Quidditch league is on a membership drive.

Do you believe in UFOs?
Welcome to the Bay of Plenty of Rubbish being dumped on the roadsides. Meanwhile Tauranga Mayor Stuart Crosby is dumping his Honda Accord as the mayoral car.
The inter school Gymnastics Festival in Gisborne has grown with this video set to inspirational music showing some talented young athletes.
What do you think of the proposed jersey Taranaki rugby players will wear for the pre-season games?
In the Wairarapa, there's some debate over whether people shouting at other people during Aratoi Regional Trust Board meetings constitutes "bullying behaviour."
Meanwhile Winston Peters has popped up in the region lecturing local senior citizens about communism and Australians.
Kaikorai Kindergarten has spent $27,000 on a sandpit.
Here's a "structurally flawless" bull.
Meanwhile Waitaki MP Jacqui Dean says an increase in the national dairy cow herd comes with a sobering reminder. Meanwhile eight robotic milking machines have arrived in Mid Canterbury to milk a herd of "super cows".
A Pak'n Save supermarket is causing controversy in Queenstown with its bright yellow colour scheme.
If you are driving on the West Coast watch out for 250 scooters tearing around.