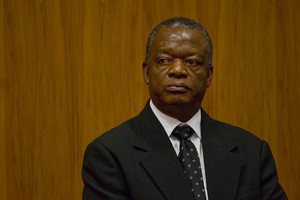 Traces of George Gwaze's DNA was found on the clothing and bedsheets of his 10-year-old niece Charlene Makaza, who he is accused of raping and murdering, a court was told today.
But a DNA profile expert warned that she treated the scientific discoveries with "caution".
ESR forensic scientist Susan Vintiner said that "normal" household washing cycles "really changes everything" when it comes to weighing up DNA finds.
The 16th day of the High Court retrial in Christchurch of George Gwaze, a 60-year-old Zimbabwean vet accused of sexually violating and murdering his niece in Christchurch in January 2007, was told DNA could be transferred during washes.
The Crown alleges Charlene was raped and suffocated by her uncle who she knew as "dad".
The defence claims Charlene was "riddled" with an HIV virus she had carried since birth, and that was what killed her.
The court has been told she was diagnosed with HIV at Christchurch Hospital only after she was found dying in her bed.
Gwaze has denied one count of murder and two charges of sexual violation.
Ms Vintiner, who tested for the presence of seminal fluid on items taken from the Gwaze household, confirmed that DNA from Gwaze's sperm was found on Charlene's underpants.
Two other pairs of her underpants, as well as a skirt she was wearing the night she died, also showed traces of the murder accused's DNA.
But the defence witness agreed with Gwaze's lawyer Jonathan Eaton that in a house with a "sexually active male" there was a "very real possibility" that underpants semen stains will transfer during the household's washing cycles, either by hand-wash or machine-wash.
Ms Vintiner also told the jury of seven men and five women that in dealing with cotton underpants, 46 per cent of semen samples would remain on the clothing after a cold wash.
If washed again, 43 per cent would remain.
The witness agreed with Mr Eaton that the process was destined to repeat itself "day after day".
Only several washes in "really hot" water would bring the traces down to non-detectable levels.
She accepted the defence notion that her task would have taken on "far more significance" if DNA samples from someone outside the Gwaze household was found.
The court was also told that a team of technical staff in the Auckland ESR laboratory took 63 samples from cut-up pieces of the young girl's bedsheet.
Only three pieces gave male DNA profile results that matched Gwaze's profile.
Most only had "very partial" profiles, Ms. Vintiner said, and she did not know how they got there.
The trial, now in its fourth week, continues tomorrow morning.
- APNZ