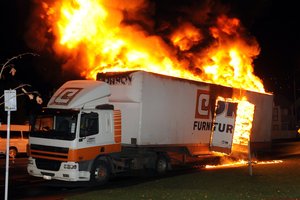 A furniture removal unit and its contents were destroyed in a suspected arson attack in North Dunedin early yesterday.
The Fire Service was called to Bank St, Northeast Valley at 2.40am following reports of smoke coming from the trailer of a parked removal truck.
Detective Graham Ross said police were treating the incident as arson - "these things don't just burst into flames by themselves".
The Conroy Removals truck was on a North Island/South Island run and its unit, which was a third full, contained two deliveries - a household lot and kitchen items.
"It has gutted the inside of the trailer unit and its contents," he said.
It was likely entry was gained at the side of the trailer unit. Nothing appeared to have been removed from inside.
The driver of the truck, who was staying at a nearby motel at the time of the incident, referred any questions to the Napier-based company.
Managing director David Conroy said the unit had an estimated value of about $60,000.
The unit and and its contents were insured.
The Timaru and Ashburton customers were "devastated by what has happened", as was the experienced driver.
"It has been a damn nuisance and its a bugger when these sorts of things happen. You are at the mercy of an element out there who have fun destroying other people's property."
Southern Region fire safety officer Barry Gibson, who inspected the charred remains yesterday morning, said "we believe it has been deliberately lit".
The unit's fibreglass roof meant the fire "was vented out the top", so fortunately the truck was undamaged.
The heat generated from the fire would have dispersed the fumes of burning fibreglass into the air, he said.
There was no evidence a liquid accelerant had been used.
Anyone who saw any suspicious behaviour in the area was urged to contact Dunedin police on (03) 471 4800.