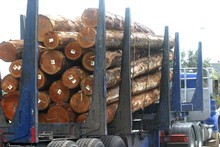 Two people have died in separate truck crashes in the past 24 hours.
A 47-year-old truckie from Taihape was reported missing by his wife last night after he failed to return from a trip to Hawkes Bay.
At about 8am today, another truck driver noticed marks on the road about 1km downstream from Springvale Bridge, 30 metres above the Moawhango River and saw a truck submerged in the rain-swollen water.
Members of the police dive squad from Wellington searched the river and retrieved a man's body from the truck's cab.
The body has been sent to Taihape to be identified, and so far police can not confirm who it is.
Another man died after a collision between a logging truck and a car in the Far North at about 3pm today.
The crash closed State Highway 1 near Ruapekapeka Rd, Towai.
Police said a man who had been travelling in the car died from injuries received in the crash.
A Masterton man is in a serious condition in hospital after the logging truck he was driving slid out of control and flipped near Martinborough this afternoon.
The incident happened at 1.15pm on a downhill stretch of Ponatahi Rd when the trailer flipped and slid down the road for about 65 metres before overturning the truck, Sergeant Chris Megaw said.
He estimated the truck and trailer unit was carrying 35-40 tonnes of gum logs, which were being taken to a firewood merchant in Martinborough.
The 63-year-old truck driver was conscious when paramedics took him to Wairarapa Hospital.
Specialist police staff will look at a number of factors to determine the cause of the crash, said Mr Megaw.
"Loading issues, mechanical issues, and driver issues, capped off by environmental issues like the road conditions are what we'll be looking at.''
Mr Megaw said it was not unusual to see a truck overturned, but the driver was lucky to not have more serious injuries and that no-one else was hurt.
"It's a road used by lots of people, somebody could have driven into it but they didn't, somebody could have been underneath it but they weren't.''
In the day's third fatality, a Dunedin man died early this morning after crashing his courier van into a power pole near Lawrence in South Otago.
He was Gavin George Anderson, aged 66.
The crash, on State Highway 8 about 1km south of the town, happened at about 5.15am and brought down electricity lines around his vehicle.
The driver died at the scene.
Senior Constable Robert Wallace, of Lawrence, said Mr Anderson was the sole occupant of the van.
Power to the township was cut, but was fully restored by about 1.45pm.
Police said a scene examination was delayed due to hazardous substances leaking from the vehicle, thought to be paint stripper or a similar substance, but that was cleared by lunchtime.
The road was reopened at 2.30pm.