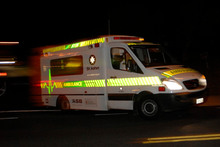 An elderly Hamilton woman is to have shoulder reconstruction surgery after she tripped over a vandalised bus shelter that had its perspex ripped from its frame.
The Hamilton City Council was notified hours before the accident that the frame had been damaged, but is defending its response time.
The woman, in her 70s, was at the bus shelter at Hamilton's Transport Centre on May 3 when she tripped over the frame and injured her shoulder.
The woman's daughter, Waikato regional councillor Paula Southgate, said she was admitted to Waikato Hospital and this week would have reconstructive surgery.
"She's hanging in there but is in a great deal of pain."
The Hamilton City Council's general manager city infrastructure, Chris Allen, said there was always a period of time between receiving a report and taking action.
The council had apologised to the woman and had cordoned off theshelters.
Mr Allen said the council had spent $42,710 this year repairing vandalised bus shelters throughout the city.
"That's a considerable cost to the ratepayers for some infrastructure designed for their convenience and protection from the weather," he said.
Bus shelter glass panes cost between $347 and $481 and additional costs included labour, traffic management, clearing the broken glass and fitting the new panels.
Because of the high cost of replacing glass panels and the targeted nature of the vandalism, the council was moving to use alternatives to glass for replacement panels and new shelters. This was expected to reduce maintenance costs.
By Nikki Preston

Email

Nikki, James Ihaka

Email

James