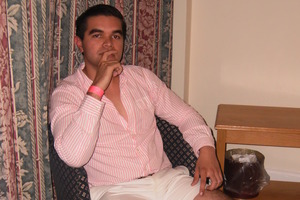 Behind the walls of a plush house in an affluent Dorset suburb, Kiwi teen Emily Longley took her last breath.
Murdered, police allege, by her boyfriend in the bed they shared.
Almost a year to the day after Emily's death, the events of those final hours have begun to unravel at the trial of her former boyfriend and alleged killer Elliot Turner, 20.
The salacious and sordid details of Emily's relationship with Turner could be straight from the script of a Hollywood movie.
Even his parents have starring roles in the controversy - they too are facing charges relating to Emily's death after allegedly destroying crucial evidence.
Obsession, jealousy, violence, threats, adultery, confessions, destroyed and fabricated evidence, secret recordings and a "joke" murder before the actual event have made for gripping reading.
It's easy to forget that the facts relate to the violent death of an Auckland schoolgirl.
But that's all the jury will be thinking about as they decide Turner's fate next week.
English-born Emily was raised in Auckland but moved back to Britain in 2010 to live with her grandparents and finish her studies. She was also hoping to be a model, and had done photographic "shoots". Months later, she was dead.
The jury has heard three weeks of evidence. Did Turner murder Emily?
Or was it, as Turner claims, self-defence?
The prosecution
Emily Longley and Elliot Turner were together for four months. During that time Turner came to mistrust Emily, believing she was cheating on him.
This ultimately led, the prosecution alleged, to Turner strangling the 17-year-old after a fight in his bedroom at his parents' Bournemouth home on May 7 last year.
"Elliot showed himself to be threatening, aggressive, violent, controlling and possessive ... these aspects of his character became more and more obvious and culminated in his killing Emily," prosecutor Timothy Mousley, QC, said.
Friends and witnesses helped police build a picture of an aggressive relationship with frequent and fiery arguments.
Turner was seen pushing and shoving Emily and was heard to threaten her life - even repeatedly discussing methods of killing her.
He spoke of drowning her in a bath, dousing her with petrol and setting her alight or forcing her to take a drug overdose.
In the early hours of May 6 Turner told two friends he had smashed Emily over the head seven times with the hammer that night until he "heard her skull crunch".
"He then started crying hysterically ... he said it happened outside Klute [a bar] in the carpark and he threw her body in the bushes outside," Jasmin Snook testified.
"Then he burst out laughing and said 'I'm f***ing joking'."
He later told Snook: "Emily is safe at home - in a parallel universe I would have killed her."
Later that day Turner and a friend practised strangulation techniques. Again, he spoke of how he could kill her.
He also text messaged another friend saying: "I am going to kick this bitch in the head ... hello darling have you met Mrs Mallet," he said, referring to the hammer he had earlier joked about murdering her with.
That night, at a local bar, all hell broke loose between the couple. They argued, he called her a whore. Emily threw her drink over Turner and told him it was over.
She stormed out, he screamed: "I will kill her. I will go to prison for it and still be a millionaire. I would do 10 years. It wouldn't bother me."
Soon after, Emily was strangled, her makeup leaving a "face mask" smeared into Turner's pillow.
Police suspected foul play and bugged the Turner house, recording conversations about Emily's death.
"It's going to come back to me," Turner is heard telling his parent on one recording.
The fact I said I was going to kill her, I sent messages saying I was going to kill her and I went into a club with a weapon," he told his parents.
He said he was in "dire straits" and a screw had "just gone" in his brain.
"I just flipped. I went absolutely nuts ... just uncontrollably. I did grab her quite hard, but then I stopped. I realised I was causing her pain. She started crying ... She sort of collapsed on the floor and I have seen it happen before. I didn't think much of it.
"I woke up next to her and she was freezing."
Conversations between Anita and Leigh Turner about destroying evidence were also recorded.
"That was a confession ... that letter I destroyed with bleach saying that he has killed her but he didn't mean to do it," Leigh Turner said to his wife.
"Neet, stop denying it. He f***ing strangled her."
In an earlier conversation Leigh Turner said his son was convinced he would be "done for murder ... because he has done something and he knows something."
He also said: "We have perverted the course of justice, we have destroyed the vital evidence in this case. Morally I think we were right because we're parents, but by the law we haven't. You know we shouldn't have destroyed that letter ... it's burning me, Neet."
The defence
Asked this week if he meant to kill Emily, Turner's voice dropped to a whisper.
"No," he replied from the witness box. "I admit saying I would kill her but I did not literally mean that."
The night she died, he claimed, they had fought. It was physical, vicious. She was screaming, kicking, hitting, flailing. She punched him in the face, she kicked him in the groin. He fought back, but only to defend himself.
"I pushed her back using my forearm," he told the court.
"That caused her to fall backwards on the bed and she started screaming and hitting me with flailing fists.
"At that point I grabbed Emily with my right hand by her neck ... it was quite hard ... I was applying slight pressure and the purpose was to restrain her and calm her down.
"She was flat on her back and I then pressed down on her neck. All together I held her neck for about five or six seconds at most ...
"I didn't intend to harm her or cause her serious injury. I stormed out of the room and was just disgusted with myself."
Turner explained his threats towards Emily were "just bollocks".
"If someone didn't know what I was like or my sense of humour they would say it looks really evil and sinister. It makes me look like a crazy person but it's all just bollocks."
He said telling his friends he had murdered Emily with a mallet was "a prank". He claimed Emily often told him she wanted to kill him, but that they were "loved up".
In a conversation bugged by police Turner spoke to his parents about the relationships.
"I can't believe I got involved with a girl like that. It was dangerous from the word go. She was so manipulative and intelligent.
"She always made me look like the bad guy. That girl has ruined my life. How the hell did I turn out this way? That Saturday morning when I flipped, that feeling sent me over the edge."
He said Emily had twisted his heart by flirting with other men.
In court this week Turner admitted he had been controlling and threatening towards Emily, but said he did love her and did not believe he was responsible for her death.
"I am not capable of serious violence ..." he told the court, adding that he felt remorseful over Emily's last night.
"It's just been a completely weird situation. Just a nightmare. Obviously I have been sad about about my girlfriend ... I said to my mum that I couldn't believe she was gone, that I wanted to marry that girl and I couldn't believe she was not in my life.
"Every single one of my friends will tell you that I did not stop talking about her, how upset I was about the situation."
The trial continues
The fourth week of the Emily Longley murder trial is expected to be the last.
Turner's parents, Leigh, a wealthy jeweller, and Anita, will give evidence and face cross-examination early next week.
They are facing charges of perverting the course of justice by destroying evidence related to Emily's death in their home.
At this stage, the jury of 11 men and one woman are expected to retire on Friday to consider their verdict.
Emily's letter
Two months before she died Emily spent a weekend with Turner at a hotel. There, she wrote him a letter that was read in court.
"I love you. Do not say you will kill me ... Stop being so aggressive ...' she wrote in pink.
"You make me scared because you are so intimidating. I hate that you are aggressive. Stop being so controlling and disrespectful because it will f*** me up."
The case so far
April 23 - Hearing begins. Court hears after Emily's death, police bugged Turner's parents' house. His father is overheard saying he destroyed a letter which Turner wrote confessing the murder.
April 26 - The court is shown CCTV footage of Emily's last night. It shows Emily arriving at a cafe, Turner arriving and when Emily left shortly after, Turner tried to follow her.
April 25 - Hours before Emily died, Turner's neighbour Harry Hawkins said the accused's friend told him that Turner was going to kill her.
April 27 - Luke Ashford, Turner's best friend, tells the court he had sex with Emily shortly before she was allegedly strangled.
April 30 - Paramedic Stephen Stratton said Turner told him Emily had attacked him in the early hours before they went to bed. Turner told him he had to fend her off.
May 3 - Court hears a conversation between Turner and his parents. "I just lost it. The anger, the f***ing anger . . . I never meant to harm her. I never planned it."
May 8 - Turner tells the court: "I admit that I said I would kill her. I didn't literally mean that."
- staff reporter, Solent News Agency