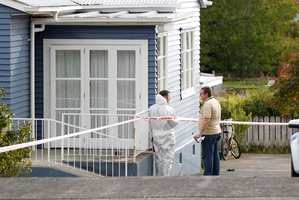 A young boy has been killed after he tried to climb up a free-standing oven, causing it to topple on him.
The 18-month-old was crushed when the oven, a conventional kitchen oven and stove top, fell forward as he tried to reach another object.
It's thought the boy, who had not been named last night, opened the oven door to use as a step.
An extended family member told the Herald it was an accident that he hoped other parents would learn from.
"If one child learned how to do that, then there must be a lot of others who can do it."
He suggested free-standing appliances should be bolted to the wall so this could never happen again.
The man, who did not want to be named, said the boy's mother was coping as best she could and that she shouldn't be blamed.
"I don't like to see young ones going through this."
He said she had many friends who would support her.
Emergency services were called to the Gilchrist St, Te Aroha house just after 7am yesterday.
Waikato police spokesman Andrew McAlley said ambulance staff took over CPR from occupants but the child died at the scene.
He said the boy had been trying to grasp something out of his reach and had attempted to use the oven to elevate himself.
It's not clear who was present when the stove fell but a neighbour said the boy lived with his mother and older sister in a rented home next to the house where he died.
Owners of the house confirmed a solo mother rented their property with her two children.
The Hamilton-based landlord, who did not want to be named, said the woman had taken up a tenancy at the bungalow three months ago.
She said she and her husband had only met them twice.
She said her mother-in-law had lived in the house for 70 years and it had been a good family home until she died a few years ago.
The house next door, where the boy died, was rented to another woman believed to be friends with the family.
The boy's father lived in Dargaville after losing his job at the meatworks in Te Aroha when it burned down last year.
He arrived at the house yesterday but declined to speak.
Police were last night to determine whether a post-mortem examination would be carried out.