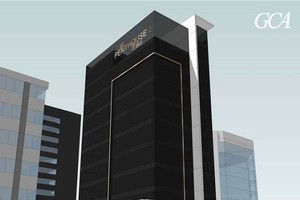 Today is the last chance the public has to have their say on whether a 'super brothel' should be allowed to be built in central Auckland.
Wellington property developers John and Michael Chow want to build a 15-storey tower building, including a brothel, on the site of the demolished Palace Hotel in Victoria St.
On April 3, the council called for public submissions on the bid, setting a May 4 deadline.
The plan is that the first two levels of the black-toned glass building will be blank and layered by a LED screen mesh facing Victoria St. This will carry graphic images for events such as a countdown to the New Year.
Property magnate Sir Robert Jones is among those who have already voiced opposition to the plan, with Robt Jones Holdings Auckland director Greg Loveridge saying the scale and look of the building on its northern face were objectionable.
"It will be 15 floors of concrete sheer wall so it won't look very nice.''
Robt Jones Holdings owns Telco House next to the site.
The historic Palace Hotel was demolished on Auckland Council orders in November 2010 after the Chow brothers' low-rise redevelopment left it unstable.
Last December the brothers, whose wealth stems from their sex and property development businesses, announced the replacement at 75 Victoria St West would be a 15-storey building that would include a brothel, Penthouse Club, hotel and offices.
Heritage campaigner Alan Matson said the scale of the proposal had more than a minor effect on the formally recognised character of the adjacent 20th century buildings.
Auckland's Catholic leader Bishop Pat Dunn is also among opponents.
An Auckland Council report has said commercial sex premises were lawful and fell within a range of commercial and entertainment activities permitted under the district plan.
An council hearing of the resource consent bid is expected to take place in about five weeks.
- APNZ