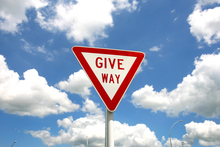 Increasing numbers of people are grasping the new give-way rules and no major accidents have occurred that can be directly blamed on the law change.
Despite fears of carnage and confusion when the rules changed on March 25, the New Zealand Transport Agency says a survey shows 90 per cent of people know the correct give- way rules, a big increase on several months ago.
Acting chief executive Stephen Town said most people were being patient and cautious.
"A few very vocal critics were predicting that drivers wouldn't cope with the changes, and that chaos on the roads would result.
"We're pleased that New Zealand has proved them wrong."
Mr Town said people were still thinking about the changes so the challenge for drivers was to stay vigilant at intersections in the months ahead and not slip into old habits.
"It will take some time before the new rules become second-nature, but based on the great response from drivers over the first 40 days we're optimistic that things can continue to go smoothly."
An NZTA-commissioned survey of 1000 drivers last month showed 90 per cent of people choosing the correct option when asked which vehicle gives way at an uncontrolled T intersection - an increase from 61 per cent in February.
For the right-hand turn rule, 89 per cent answered correctly in the April survey compared with 74 per cent in February.