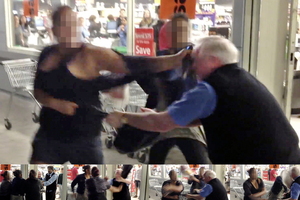 A Rotorua mother and daughter have been found guilty of assault after a scuffle at Countdown supermarket.
Eve Margaret Campbell, 50 and her pregnant daughter Cherylly Juanita Campbell, 30, were caught on camera taking part in the scuffle with Countdown staff on January 4. The video went viral on YouTube and social networking website Facebook.
Cherylly Campbell was charged with assaulting Eric Alexander and Jimmy Thekkakara with a handbag and assaulting Mr Alexander. Eve Campbell was charged with assaulting Mr Alexander with a shopping bag.
The pair defended the charges at a defended hearing last month and Judge Phillip Cooper reserved his decision. In his reserved decision which Judge Cooper released this afternoon he found both women guilty of the charges they faced.
Eve Campbell appeared before Judge Cooper in the Rotorua District Court this afternoon, while Cherylly Campbell's appearance was excused.
Eve Campbell was sentenced to 75 hours community work, while Cherylly Campbell was remanded in custody to be sentenced on June 8.
For more articles from this region, go to Rotorua Daily Post