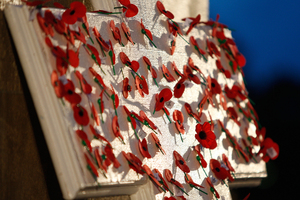 The Returned Services Association says it is "horrified" that a Poppy Day donation box was stolen from a shopping mall.
Police are seeking help from the public to identify a man they wanted to question after the box was taken from Pak'n Save at Westfield Riccarton in Christchurch on Sunday afternoon.
Police said they wanted to speak to a woman pushing a pram who might be associated with the man.
It was estimated there was $300-$500 in the collection box.
Christchurch RSA Russ Barron said he was "horrified" to learn of the theft.
"When people go to the step of stealing money put into a donation box for returned servicemen that have served the country and been injured either mentally or physically to give us the life we have today it's a bit of a sad indictment that these people believe they should have the money and not the servicemen. It just goes against the grain," Mr Barron said.
Mr Barron said the money raised in the poppy appeal went towards provide welfare and some medical services for returned veterans.
Last year, $1.7 million was raised nationwide on poppy appeal.