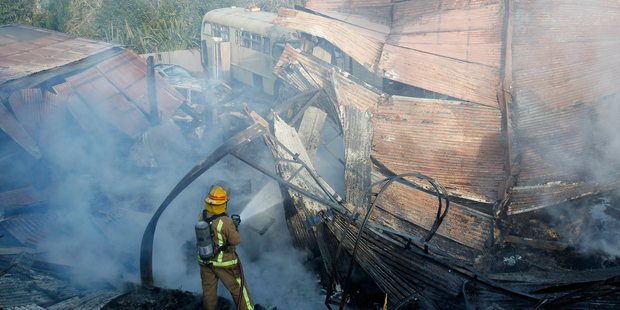 Ron Hutchings spent four years refurbishing a classic 1968 Corvette Stingray he imported from America.
So when he arrived home yesterday and saw the barn he kept it in totally engulfed in flames, he could think of only one thing: "My car's in there."
The painting contractor, who manages the Glentui Travellers Lodge at Whatawhata with his wife, saw smoke and flames pouring from the barn's corrugated iron roof after neighbours had reported what sounded like explosions.
Mr Hutchings had stored much of his painting gear in the shed but it was his Corvette - which he said was not insured for fire - that had him worried.
There was little left of his prized possession except for a burned-out shell under the rubble despite the best efforts of one of his neighbours, who tried to keep the flames at bay with his garden hose.
"We'll just have to see what the insurance company says but I'm not too sure," Mr Hutchings said.
The fire also spread, burning down the lodge's adjoining ablution block, seriously damaging one of the lodge's two units and destroying a car that was next to the building.
"It was a Japanese import so it doesn't matter. I'm just glad it didn't get to my [house] bus.
"It could have been worse, a lot worse. My wife was inside at the time it happened but luckily it didn't get that far."
Three tankers from Cambridge, Pirongia and Te Awamutu were called about 3pm to the blaze, which sent up pillars of black smoke.
Hamilton central senior station officer Alban Osborne said firefighters had the blaze under control quickly.
They were dampening hot spots when the Herald visited yesterday.
Mr Osborne said it was not clear what caused the fire but he believed it was not suspicious.
"Usually when there are cars in there it isn't, probably more so when you've got a classic car in there."
Mr Osborne said fire investigators would be making inquiries.