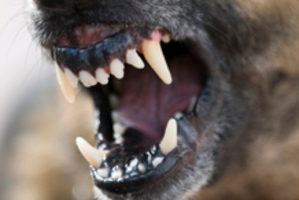 A Dannevirke woman mauled by a dog says she thought her life was over when it jumped at her.
"The attack was pretty horrific - the dog mauled me, even though I hadn't approached it," Katrina Smith said of last week's attack.
"There's no way I'd be so stupid as to approach a dog like that," she said.
"He sees me every week, but on the day of the attack, I certainly never went near him.
"On this particular day the dog, which was on a lead, just jumped at me and tried to eat me. It was horrific.
"I thought my life was over," she said.
Along with serious facial injuries, Ms Smith suffered a dislocated arm.
"I was on my own and had to get in the car and drive myself to find help, it was so traumatic.
"I'd dropped my cellphone during the attack so couldn't phone anyone," she said.
She was flown to Hutt Hospital and was only now feeling able to talk to police.
Senior Sergeant Sue Leach of Dannevirke police said the dog had been put down by its owner following the attack and dog control officers had been advised of the attack.
"Anyone with concerns about dogs also need to advise the dog control officer at the Tararua District Council," Mrs Leach said.
For more articles from this region, go to Hawkes Bay Today