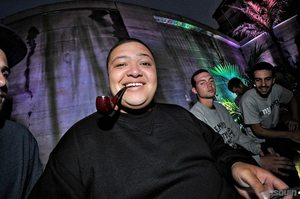 DJ's attention-seeking jest no joke
An event manager and DJ who falsely claimed a cafe had evicted a woman for breastfeeding says it was a joke.
But the cafe owners and a social media commentator do not think it was very funny.
Keegan Fepuleai made himself out to be a hero by tweeting, "Stopped at Sierra Cafe on Lincoln Rd to get a quick coffee. The owner tried to kick out a breastfeeding lady, like a real w*****. After I told him to f*** off, he then tried to kick me out."
The West Auckland cafe owners, Rose and Jim Kennedy, were shocked because they welcomed mothers and allowed a staff member to feed her baby in the cafe.
"It's just bizarre, we weren't even open," Kennedy said, pointing out that the tweet was posted on Good Friday.
Fepuleai told the Herald on Sunday it was just a joke, but expressed no remorse.
Social media commentator Simon Young said making such a comment was a short-term way to gain followers, but not an intelligent one.
"I thought jokes had to be funny, it seems very strange," Young said. "It is a short-term way of thinking because it may get attention but eventually the truth will come out and, unless you have done something heroic, people aren't going to be impressed."
He said social media were "built to spread" and had a huge impact on generating points of view.
"It's selfish and nasty, it's not clever at all and it's a bit mystifying as to what he was trying to achieve."
He said a study by American social media scientist and author Dan Zarella revealed that people responded more to positive words than negative ones.
"Positive comments are more re-tweetable than negative - tweets using words like great and awesome will get more [retweets] than sucks or bad," Young said.
He said it was important for businesses to monitor social media forums to stay informed with what was being said about their brand.