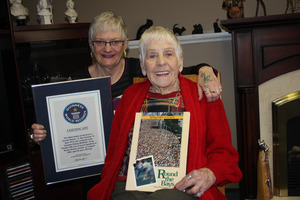 When you are listed in the 2012 Guinness World Book of Records for race-car driving at age 90, that's an amazing feat in life. Yet Jeannie Reiman has championed many personal achievements over the past century and is still going strong.
The New Zealand-born woman turns 99 on April 19 and says she wakes up each morning eager to start a new adventure.
Ms Reiman and her husband, Jack, migrated to Canada in 1985 to live with their daughter Wendy Roper.
Nearly 30 years later, the mother and daughter live together in Penetanguishene, Ontario, where they are active and well known in the community.
"I have a wonderful life - it's just perfect. I live every day to the fullest and enjoy spending time with my daughter.
"She includes me in everything she does and her friends all treat me like I am one of the group."
The two said they were more like sisters - a relationship that keeps Ms Reiman young.
Two years ago when they were home visiting New Zealand, the mother and daughter got tattoos.
At 97 Ms Reiman was likely the oldest person to have two permanent butterflies put on her ankle.
It was this same competitive instinct that earned her a place as the oldest race car driver in the Guinness book - 90 at the time.
The year before her big race, Ms Roper wanted to a race a car so she could include the experience in a book she was writing, Track Talk.
"I did it and won, so Jeannie says to me, 'if you can do it, I can do it when I'm 90' and she did. She competed in the Canadian Vintage Modified's 10-lap Powder Puff Race at Sunset Speedway in Stroud Ontario on August 3, 2003 aged 90 years and 106 days old," said Ms Roper.
During her last few years in New Zealander, Ms Reiman took part in the Auckland Round the Bays race as a senior competitor.
"One time she actually got separated from where she was supposed to meet my father and he finally found her at the Lost Children location.
"Jeannie-kins has been involved in sports her whole life and I think that is one of the things that has helped her stay in such good health - she was a championship sprinter and the first hurdler in Auckland to stop and jump like the men do. She also belonged to the first rowing club and team in New Zealand and said she joined not for the club but because she liked the rowers who were mainly men - that's where she met my father."
Next year when she celebrates her 100th birthday, Ms Reiman will entertain special guests from New Zealand including some relatives she found out about only in later life.
Adopted by a great aunt when her parents died, Ms Reiman recently learned online she had three half-sisters and during her recent visit to New Zealand found a great-nephew who has a sister named Wendy-Jean.
Dangerous deeds with bees
Remember Room 101 in George Orwell's 1984 - the place where you were confronted with your worst nightmares? For those who fear stinging insects, Chinese beekeeper She Ping's hobby is like being in that room. Mr She was covered with an estimated 331,000 honeybees, in an attempt to break a world record.
They don't all swarm on him at once. In nightmare terms, it's worse than that. Mr She, an apiarist in the city of Chongqing, has a queen bee placed on his body, and then stands in a basin into which bees are poured; they climb up him to get to the queen, and the whole process takes about an hour. An hour!
Not that Mr She is completely the daredevil he might seem; he puts cotton wool buds in his nostrils to prevent that complaint common to 2-year-olds - "foreign-body-in-the-nose". And an assistant keeps bees away from his face with burning incense.
But otherwise he's completely covered with 33.1kg of bees, and he gets "a few" stings. He was doing it to break the previous record for a bee mantle, as it is officially called, which Chinese media believed was set by Jiangxi province beekeeper Ruan Liangming in 2008, with 26.8kg of bees about his person.
Alas, a check with the Guinness World Records website reveals the record is actually held by Vipin Seth from India, who was covered with 61.4kg - 613,500 bees - on March 9, 2009.
It's back to the drawing board for Mr She.
- Independent