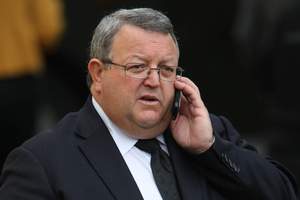 Earthquake Recovery Minister Gerry Brownlee quickly backtracked yesterday after another potentially embarrassing slip-up involving the city council.
Less than three months after referring to Mayor Bob Parker as a "clown", Mr Brownlee appeared not to know who prominent city councillor Yani Johanson was.
Speaking on Radio New Zealand yesterday morning, the minister was asked about comments made by Mr Johanson that the Government and Mayor Bob Parker had made a "secret deal."
Mr Brownlee replied: "I'm sorry, who said that? ... Where does he fit in?"
When host Patrick O'Meara informed the minister that Cr Mr Johanson was a Christchurch city councillor, Mr Brownlee said "Oh is he? Oh."
Yesterday afternoon, a spokesman for Mr Brownlee told The Star that the minister had just misheard.
"He simply said 'who' because he misheard the name. Of course he knows who he is."
The comments came only one day after Mr Brownlee made a speech about the close relationship between Government and city council, in relation to the Government setting up a new business unit to focus on rebuilding the city's CBD.
"The Christchurch Central Development Unit will provide clear leadership for the rebuild of the city and work in a positive partnership with Christchurch City Council, which remains the consenting authority."
Cr Johanson told The Star he was not offended by Mr Brownlee's comments.
"I appreciate that everyone is under a lot of stress at the moment and mistakes or lapses of memory can easily be made. It's no skin off my back. I have no idea why he said that, but he's entitled to say whatever he likes on the radio. I haven't taken it very personally. I have one of the biggest margins in the city," he said of his popularity with voters.
However, he thought the relationship between city council and Government could be greatly improved upon.
"We need to work together a lot better. Moving forward, I have said I would like the council to meet with the minister on regular occasions. But I don't know yet if the minister would agree to this."