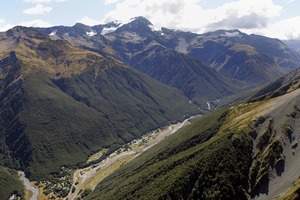 A Christchurch man critically injured in a head-on collision just out of Arthur's Pass village on Sunday morning, died in Christchurch Hospital last night, prompting renewed calls for the twisty section of State highway 73 around Mingha Bluff to be straightened.
The dead man, who has yet to be named but was aged in his 20s, was travelling towards the West Coast about 10am when his vehicle and another heading towards Christchurch collided.
The crash happened on the first part of the winding section of highway immediately east of the village.
Just a week ago it was announced that the New Zealand Land Transport Agency (LTSA) had deferred indefinitely the proposal to straighten that section of road, from the Mingha Bluff to Rough Creek.
Only last year the NZTA had draft plans to form a new road following the rail alignment, including holding public consultation meetings in Arthur's Pass.
West Coast Regional Council chairman Ross Scarlett said the weekend fatality should force the agency's hand and get the work done urgently.
The next funding programme would be developed in 2015-18, and there was still no guarantee that it would not be deferred yet again.
Mr Scarlett said he intended to make a submission to the Canterbury regional draft transport programme.
"I want them to look at fixing this section of road now. It's dangerous and we are just lucky someone has not died before this.''
That portion of highway is one of the last very winding sections left on the alpine route between the West Coast and Canterbury, and work to straighten it has been in the pipeline since 2009.
Mr Scarlett said it was so narrow and winding in places that it was ``very frightening'' for motorists.
"When you are travelling in this area and come across a large truck heading towards you, there is hardly room for a tissue to be dropped between the two passing vehicles.''
The NZTA did not respond by press time today.