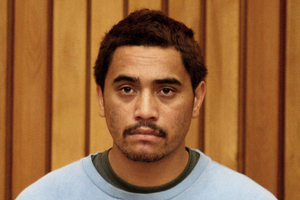 Pleas of not guilty for two of three people charged over a Christmas Day car crash in Welcome Bay that killed two Tauranga sisters were entered at the High Court at Rotorua this morning.
The girls' mother Phillippa Vanessa Morehu, 36; Haki Tepuere Davey, 17, their cousin, entered not guity pleas to two charges of manslaughter through their lawyers.
"Hetaraka Hikurangi Reihana, 20, who also faces a double manslaughter charge and was late for this morning's apperarance, telling the court he was having breakfast, entered no plea, with one expected to be lodged when the case is recalled next month.
The manslaughter charges relate to the deaths of Merepeka Morehu-Clark, 14, and her 13-year-old sister Brooklyn Morehu-Clark who were on the way to visit their grandmother's grave when the crash happened. They were not wearing seatbelts and died at the scene.
The sisters were sitting in the back seat of a vehicle allegedly driven by Hetaraka Hikurangi Reihana, 20, when it collided with a ute on Welcome Bay Rd.
All three of the accused appeared at court today supported by a large group of family.

- APNZ