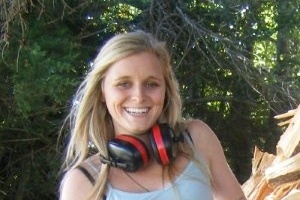 Stories making headlines across New Zealand at noon today include AC/DC drummer Phil Rudd's Ferrari field day, a harrowing dog tale, pumpkins so big you can sleep in them and chainsaw weilding women in hotpants.
Ferrari fans had a field day in the Bay of Plenty at the weekend courtesy of legendary AC/DC drummer Phil Rudd, who arrived at the charity event in his personal helicopter near his restaurant with two of his Ferrari's on display. Here's a photo gallery for those who missed it.
The Northern Advocate asks "How far is too far for a pregnant woman to go for help with the birth?" A Kaitaia midwife says Wanganui residents worried about a 74km journey to Palmerston North Hospital should take heart from the Far North where women travel twice, sometimes three times, that distance for specialist help.
The prospect of Aucklanders Sally and Jaime Ridge having their own reality TV show along with New Zealand's Got Talent has them cringing in Rotorua. But that's not why 17 people a week, on average, are leaving Rotorua for Australia.
Meanwhile on a farm near Gisborne, for three long days and nights, heading dog Scott hung head-first in the fork of a tree about 14 metres down a bluff while his owners scoured the hillsides in atrocious weather searching for him. He had just qualified for the national sheep dog trials in Wanaka when he disappeared. In the city, hundreds turned out on Saturday for a march in support of saving the damaged Gisborne to Napier rail line.
In Hawke's Bay, retailer Bruce Dye is an angry man after buying an easter egg from his competitor's emporium over the road on Easter Sunday only to find the receipt he kept has failed to move the Labour Department to prosecute. The other store owner Haary Kumar, seemingly oblivious to every other shop in Hawke's Bay being closed, said nobody told him it was against the law to open on Easter Sunday.
Over in the Wairarapa, they've managed to coax a local chainsaw weilding babe in hotpants "to come out of hiding" for the Miss Tui 2012 contest, in the hope she can take the title for the region for the first time. Yea Really!
Teen Hamilton gardener Jordan Healey says many seeds available for sale today are either genetically modified or inbred, creating plants that produce inferior fruit or infertile seeds, so he's started a social media campaign to connect people collecting heirloom seeds.
Spying, gossip and exaggeration are rife in the Mangamahu Valley near Wanganui while people grow entries for the annual Pumpkin Off, but the suspense was all over yesterday Jimi Blinkhorne's prize-winning pumpkin is so big he could carve out the inside and sleep in it.
Down in Christchurch, a MasterChef contestant who hooked up with a fellow competitor tried to stop producers from screening footage of them making out. Andrea Bathgate, whose "inedible" chocolate tart saw her eliminated, apparently didn't know the intimate scenes were being filmed.
Mid Canterbury dairy farmers are defending their profession in the wake of an American poll that found milking cows is the second worst job in America. "The best thing is you live and work on the farm and your kids always know where you are at," said Mid Canterbury dairy farmer Hamish Davidson.
In Dunedin, as well as providing refuge from the weather for bus passengers, the Company Bay bus shelter now serves as a memorial to the late Broad Bay artist John Noakes. Mr Noakes spent 15 years painting murals on 65 bus shelters around Dunedin.
And a framed airship has taken to "the air" at the entrance of Steampunk HQ in Oamaru.
Top trending topics in New Zealand on Twitter at Midday were: #RCRD, #CHEvCHI, #onedirectionTo3Million, Titanic, Tom Taylor, Stormers, Coachella, Auckland, Reece Mastin, and ANZAC.