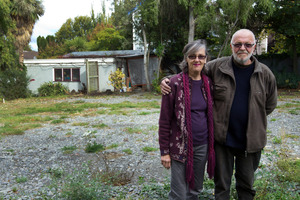 Angry quake victims unite to fight council refusing full rebate on houses with no services.
Owners of quake-damaged homes in Christchurch are fighting back against the council's insistence they pay 60 per cent of their rates even if their houses are uninhabitable.
It is a source of upset for thousands of homeowners like Bill and Kathy Lawrence, who have only a garage left.
Their earthquake-damaged house was knocked down, contents and all, last year after the February earthquake. They can no longer live at their property, nor can they do anything with it as they wait to find out what state the land is in.
Yet the couple must continue to pay council rates for services they do not receive.
The Christchurch City Council is offering a 40 per cent rates remission for residents with uninhabitable properties, but this week voted against providing 100 per cent remission.
Councillors cited the multimillion-dollar cost to the city and how it would "open a can of worms".
"It's very unfair," Mr Lawrence told the Herald.
"We're not getting anything for it. The garage is still left on the site, but I can't get the power connected to it - they've disconnected everything. So I've really not got any services there at all."
The Lawrences had to shift to a rental property, where they effectively are paying rates through their rent on top of the rates on their own disused property, where the full bill is about $1800 a year.
Their rent is also rising $45 a week as demand for rental properties skyrockets in Christchurch. They are still paying insurance on the demolished house to ensure they can get cover for any rebuild.
"I'm coming up 72, and we're on a limited income," Mr Lawrence said. "It's very hard, extremely hard. We don't have much to come and go on."
A minority of city councillors who voted for 100 per cent rates remission on uninhabitable properties have spoken out, saying the situation is not right.
"Given that those in the red zones don't have a personal living space - many are staying with family, don't have exclusive possession, the Government is buying their homes and they don't have habitable housing - they are by international and national standards homeless," said one, Glenn Livingstone.
"The question then becomes: in the Christchurch context, how can the council charge people who are homeless rates?"
About 30 people at a public meeting this week heard organiser Nigel Salsbury vow to take the fight to the council with others who are being forced to pay "double rates".
He said it began as a matter of fairness, but since then he had seen the effect it was having on people already struggling as a result of the earthquakes. "If we all take a little bit away from those people's shoulders, it helps them to get on with their lives."
The Christchurch Rates Relief Group is putting together a petition and plans a presentation to the council.