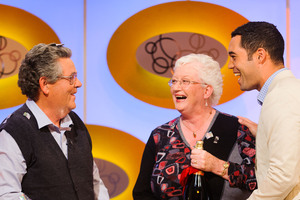 A lucky spin left a Marton man weak-kneed when he won $1 million on Lotto's winning wheel last night.
Mark, a keen gardener, was the 18th person to win the top prize on the live draw.
"I'm feeling pretty weak in the knees. We never expected to win the big prize and were quite happy if we won the $100,000 prize," he said.
Mark, who until recently worked as an airfield sweeper at Ohakea, liked to prune his roses, watch sport and fish.
He and wife Vanessa, who supported him during the draw, went shopping with a stylist as part of the Lotteries-funded trip to Wellington for the draw.
Two others have won the top $1 million prize on the winning wheel this year.
Lotteries chief executive Wayne Pickup said Aucklander Rose-Marie won the top prize two weekend's ago, while Auckland student Daniel also hit the big one in February.
Three Lotto players won a $333,333 share of the $1m Lotto first division prize last night.
The winning tickets were sold at New World Whakatane, Paper Plus Whangarei and Beachlands Post and Lotto in Manukau.
Last night's draw also featured special vouchers for 100 extra cash prizes, worth $2m, as part of a special Easter promotion.
- APNZ