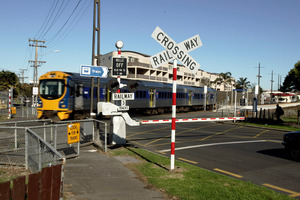 A man has died after falling under a train in front of his partner and child in west Auckland.
Emergency services were called to the incident at the Ranui train station at 2:55pm.
Police said a 36-year-old male fell under the train as it was leaving the platform
He was taken to Auckland Hospital where he died a short time later.
A St John's Ambulance spokeswoman said paramedics found a man with extensive and life threatening injuries from being struck by a train.
She said the patient's distraught partner and child were being counselled after witnessing the collision.
The man had been treated by a rapid response unit and was being transported to Auckland Hospital emergency department by ambulance, she said.
- HERALD ONLINE