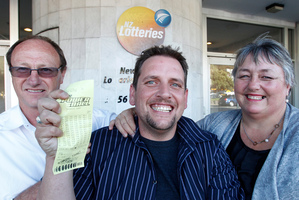 Lotto's latest multimillion-dollar winner has gone into hiding after being contacted with requests for money.
Te Kauwhata man Trevor - who went public about his $26 million fortune - has fled the small town after the requests.
The 34-year-old, a checkout operator at the Countdown in Huntly, was due for a 5am shift yesterday, and had vowed he would still go to work despite his huge jackpot.
But he did not turn up for work at the supermarket where expectant journalists had gathered.
Lotto spokeswoman Karen Jones said she had spoken to Trevor and although he had no regrets about going public, he was overwhelmed by the attention.
"His original plan to go back to work went out the window. He decided to take a few days off and let the story settle down a bit. He's getting out of town and just having a few days away.
"He's been absolutely overwhelmed ... and 99 per cent of [the attention] has been positive, but he has had a few contacts from people seeking financial gain. So he just wants to avoid that for the moment," she said.
NZ Lotteries has offered Trevor professional help and psychologists say the best thing for him to do is to see a financial advisor to help him deal with his big winnings.
Neighbours in Te Kauwhata yesterday said they were happy for the man who they described as an ordinary bloke who very much deserved the win.
A woman who did not want to be named said Trevor and his flatmate had spent the night at home but had left in the early hours of the morning.
"He's still the same person. I don't see this changing him. He's just got a few extra bucks in his back pocket now - several extra bucks."
At the Countdown supermarket in Huntly, colleagues who spoke to the Herald outside all had positive things to say about Trevor.
"He's a great dude and we're all jealous," one said.
Asked if Trevor had been in touch to shout them a few drinks, they laughed.
"Not yet. We might have to ring him to remind him."
Not turning up to work yesterday meant Trevor might be hunted down by another person interested in his millions - journalist John Campbell.
In an interview on Campbell Live on Monday, Trevor told Campbell: "Mate, I could bet you $26.5 million I'll be at that checkout tomorrow morning."
Yesterday, Campbell laughed about the idea.
"If it was a deal, I would be a very rich man. But in order for it to have been a deal, I would've had to take the other side of the bet, which was to agree to pay Trevor $26.5 million if he went to work.
"I sort of feel like I probably wasn't good for that kind of money."