The Herald on Sunday is campaigning to get all of New Zealand out on the beaches this summer, keeping them clean for our kids and our grandkids. We'll be out with our rubbish bags - and we want you and your family to join us.
Make sure you're counted! You can register your support or participation through nzherald.co.nz here or at facebook.com/sustainablecoastlines.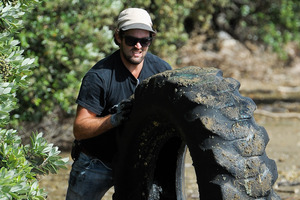 Beach Busters found another strange assortment of junk in the mangroves around Stanley Bay yesterday. Among the items pulled from the mudflats were tyres, a tricycle and a broken ceramic toilet.
Volunteer Celine Martin was among a group of staff from Auckland's Hilton Hotel getting their hands and feet dirty.
Her colleague Daniel Burstein was on his third beach clean-up. "I have to admit, in Rangitoto we picked up more."
Local resident Malcom Iversen was impressed. He said one volunteer had travelled from Papakura yesterday to help clean up the North Shore coast.
Iversen said he does what he can to help too, regularly walking out to rid the mudflats of litter.
"The locals are pretty good, especially with doggy-doo. They keep getting better."
Sustainable Coastlines founder Sam Judd said more than 260 volunteers pitched in yesterday, double the number in last year's clean-up. The tyres may turn into a mooring for someone, or be recycled, he said.
The team also found significant amounts of asbestos near the naval base at Stanley Bay.
Staff from the Herald on Sunday will join Sustainable Coastlines at Birkenhead this Tuesday at 2pm. Beach Busters wraps up on Wednesday and Judd and colleagues will see off the season with clean-ups at Torbay and Narrow Neck.
YOUR CHANCE TO WIN BIG
Win a camera every week
Take a photo of your friends or family cleaning up your favourite beach and go in the draw to win a Sony Cyber-shot TX10, valued at $649.95. With an Underwater Sweep Panorama function and 16.2 Mega Pixels you'll be able to take stunning underwater photos, as well as crystal clear shots on land. We have one camera to give away every week for the next 10 weeks to the person who takes the best photo, as judged by Herald on Sunday illustrations editor Chris Marriner. Five runners-up will each receive a copy of the book Beached As - New Zealand Beaches Then and Now by Craig Levers.
GRAND PRIZE
At the end of our Beach Busters campaign, the overall winner will receive a grand prize package comprising:
* a Sony Tablet S valued at $749.95
* a dive, snorkel or sightseeing trip for two to the Poor Knights Marine Reserve courtesy of Dive! Tutukaka
* $400 worth of clothing from surf label Sitka.
Entries close each week at Friday noon, and the winning photo will be printed each Sunday. So get snapping, and email your best shot as a JPEG to pictures@hos.co.nz with 'Beach Busters' in the subject line. Make sure you include your name, address and daytime phone number. Include a caption giving the place and full names of the people in the photo.
Please see terms and conditions at www.nzherald.co.nz/HOScompetitions. APN New Zealand reserves the right to store electronically any pictures entered in the competition and to use the images in any of its publications.