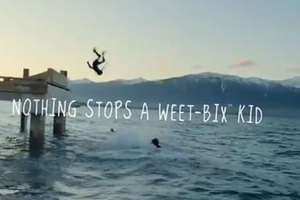 A top Australian band is claiming that Weet-Bix in New Zealand has used one of their songs in a TV advert without their permission.
Brisbane indie rockers The Grates say they are investigating whether their 2008 single Aw Yeah has been used to promote the popular breakfast cereal.
Kiwi fans of the group alerted them to the potential copyright breach after finding similarities to the 'Nothing Stops a Weet-Bix Kid' TV advert tune, which has been running for over 12 months.
Now, the cereal's manufacturers Sanitarium could face legal action over the dispute after the band's record label, Dew Process, confirmed to Australian media that they would look into it.
On the band's official Twitter account, The Grates, who consist of Patience Hodgson and John Patterson, wrote: "They asked us if they could record a version of this song for the ad.
We said no. Can't believe they did it anyway, jerks.''
The tweet has since been deleted as they probe further.
Sanitarium Australia says it is yet to contact the company's New Zealand branch, according ABC News.
Last month, another Australian band found themselves in a similar position. John Butler Trio sought legal advice when a yoghurt advert that featured in America's Super Bowl coverage featured a song similar to their hit, Zebra.

- APNZ