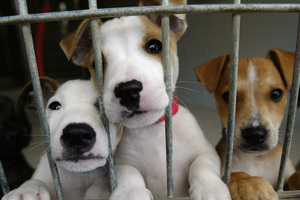 A former New Zealand Kennel Club dog show judge and his wife, who have each been convicted of three animal cruelty charges, have had their sentencing postponed.
David Neil Balfour and his wife, Daryl Kirsty Reid Balfour were due to be sentenced in Palmerston North District Court today, but their sentence was delayed "as a result of the sudden illness of one of the defendants involving hospitalisation and a significant recovery period", a Ministry of Justice spokesman said.
The pair were convicted last December after being found to have mistreated more than 200 animals.
The SPCA found 87 dogs and 161 cats were kept in cramped conditions with insufficient shelter, water, lighting and ventilation on a property near Dannevirke in 2007.
Half of the animals were put down as a result of the ill-treatment, and about 50 cats were treated by Wairarapa veterinary surgeon John McLaren.
Some of the cats took up to three years to recover fully.
The sentencing has been postponed until May.
- APNZ