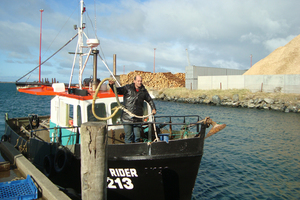 Four of those who died in last week's Easy Rider fishing boat tragedy will be farewelled in Invercargill tomorrow.
Invercargill men Boe Taikawa Gillies, 28, John Henry Karetai, 58, Peter Glen Pekamu-Bloxham, 53, and Shane Ronald Topi, 29, were with five other relatives when the Easy Rider sank overnight last Wednesday while on its way to the mutton bird islands.
The 12m boat, skippered by Bluff man Rewai Karetai, 47, was hit by a rogue wave, leaving Invercargill man Dallas Reedy, 44, as the only survivor.
Limited searches are continuing for the bodies of Mr Karetai and Invercargill trio Paul Jason Fowler-Karetai, 40, Odin Karetai, 7, and David George Fowler, 50.
Police said a combined funeral service for the four men whose bodies had been found would be held at Invercargill's Rugby Park Stadium at 11am tomorrow.

- APNZ