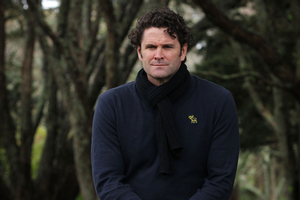 Former Black Cap cricketer Chris Cairns had to be ushered from a London courtroom by his lawyer yesterday after angrily confronting the man accusing him of match fixing.
He became agitated after it was revealed that ex-Indian Premier League commissioner, Lalit Modi, whom he is suing for libel, would not face cross-examination.
The decision by the defence not to call him as a witness led to an early finish at London's High Court this week.
Cairns, 41, is claiming damages over Modi's 2010 Twitter posting that claimed Cairns was axed from the Indian Cricket League when he was captain of the Chandigarh Lions for match fixing in 2008.
But Cairns maintains his contract was terminated because he failed to declare an ankle injury that was exacerbated by a 1000km charity walk.
In a dramatic session yesterday, the former New Zealand allrounder left his seat next to his wife Melanie Croser at the front of the court and walked to the public gallery at the back where Modi was sitting at the end of a row.
He gestured in his direction from the other side, before one of his three lawyers intervened and motioned him outside.
Earlier, the court heard from former South African player Andrew Hall, who succeeded Cairns as captain of the Lions. He had been worried what would happen to him.
In his witness statement, Hall said that after Cairns' dismissal, the Kiwi told him and the team's strength and conditioning coach, Jock Campbell, that he had been "made a scapegoat".
Hall said he confronted some of the local players in the team, saying he would not put up with them trying to "destroy" him too.
Counsel for Cairns, Andrew Caldecott, QC, asked Hall: "Did it ever cross your mind that Cairns was being set up?"
Hall replied: "Yes."