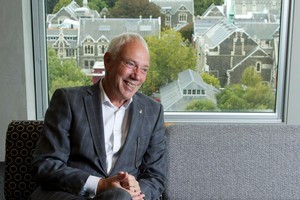 There have been dark moments for Christchurch's mayor but he's looking at the bigger picture
Late at night, when he's at home after a hard day - and they are all hard in Christchurch - Bob Parker has some dark moments.
Moments when he wants to give up, to concede to his critics and hand in the mayoral chains, to cut and run from the broken city under his care.
But he takes a moment, steps back from everything that's hurting him, and remembers who he is and what he's there to do.
"The last few months have been really hard with a number of attacks on the council and attacks on me and some unfortunate things have been said.
"There are times when you're tired and it's late at night and you think 'all I want is the best for this place' ... and having to cope with stuff that seems so removed from that need, petty political things, it's really frustrating to have to face that.
"So yeah, I've had those dark moments, but they pass. And you balance it out by stepping back and looking at the bigger picture. I really care what happens in this city.
"We're not separate, as council staff, from this disaster. We are part of it, we're in it. It's our families, our lives, our homes, our children, our landscape that's been damaged. I've got every right to be here. We've all worked hard to get where we are in our lives and I'm not walking away because of a few people badmouthing me."
When he opens the doors of the expansive mayoral suite to the Weekend Herald, he's running late. He's been in a meeting with the Crown Observer, the newly appointed watchdog of the council.
He apologises profusely, and says bluntly that every week is a "bloody big one" in his office.
Talk soon turns to how lucky he feels to be in his new office, on the sixth floor of the new council building, and how he feels even luckier to be alive.
"Most of us have believed on at least two and potentially more occasions that we were going to die. When you suddenly come through the other side of that and you're not dead, you suddenly think of all the things you thought of when you thought you might not make it through."
Yesterday Mr Parker was in his usual pristine and polished business suit. But he was quick to point out his red and black striped socks. The Crusaders were due to take the field in their 2012 Super Rugby debut and Mr Parker's excitement was clear.
It's not only because he's a rugby fan, but because the return of a team so revered and adored by Cantabrians at the end of such a tumultuous week also enabled a return to some sort of normality.
"I'm so excited about it. I'm so thrilled that rugby has come back. It gives us that extra focus as a city."
Mr Parker found Wednesday hard. His first duty of the day was a memorial at Latimer Square for the families of victims and the first responders - police, fire, ambulance, urban search and rescue and countless others.
He was there hours after the quake and cannot shake the images of the temporary mortuary, triage areas, traumatised and injured people and the smell of acrid smoke and dust.
"We were in a war zone and frankly you could have been in the middle of Beirut. It was literally as if the city had been subjected to continuous bombardment and rocket attack.
"All of that stuff was running through my mind on Wednesday morning. When we stop and take some time to reflect it just shows us how deep the trauma, the sense of loss and the pressure of change really is. So, I wondered if we'd get through the day.
"But, I could sense as the day went on we were being pulled back together. What an empowering feeling that was, to have all sorts of things on our plates ... all sorts of stresses and pressures building up, and we just needed to in a sense remind ourselves 'hey we're all on the same team'.
In the last few months there has been a revolt of sorts against the city council, against Mr Parker personally, and against his CEO Tony Marryatt.
Mr Marryatt was granted a $68,000 pay rise that some thought was obscene in the circumstances.
Mr Parker wishes it could have been handled differently and accepts it was a "politically dumb" move by the council.
He was expecting Christchurch to turn on its civic leaders at some stage, "but we gave oxygen to that with the decision around [Marryatt's] salary".
"Well, heck, we make dozens and dozens of political decisions and sooner or later, you're going to get one wrong. But I think the timing was such that it gave oxygen to a number of people ... and politically, that is a dumb thing to do. You reap the outcome of that."