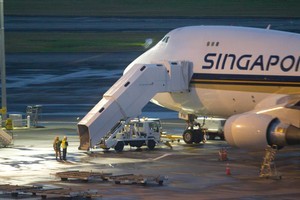 A cargo plane sparked a radiation alert at Auckland Airport last night.
A 200m cordon was placed around the Singapore Airlines Boeing 747 freighter after radiation was detected on the aircraft.
The Fire Service was called to the international terminal just before 8pm. Three fire engines, including a hazmat unit with a radiation detection device and a technical liaison officer, attended the callout.
By 9.30pm, most of the fire trucks had left the airport.
No passengers were on board the aircraft and its crew were all safe and uninjured.
Auckland Airport spokesman Richard Llewellyn said staff were checking the aircraft as a "precautionary measure" and at 10pm he was waiting for the final "all-clear".
The Fire Service said it was a rare occurrence and could potentially be dangerous. Flights and operations at the airport were not affected.