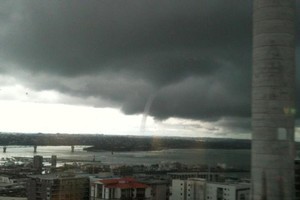 More waterspouts and funnel clouds could be on the way with a bout of thunderstorms predicted to ravage parts of the North Island today.
Metservice this morning issued a severe thunderstorm watch for eight areas of the North Island.
Northland, Waikato, Waitomo, Taumaranui, Bay of Plenty, Rotorua, Taupo and Taranaki are facing the possibility of thunderstorms and even hail.
Heavy showers with rainfall reaching up to 40mm an hour are expected to drench all eight regions.
"Rainfall of this intensity can cause flash flooding, especially about low-lying areas such as streams, rivers or narrow valleys, and may also lead to slips," the agency said.
"Driving conditions will also be hazardous with surface flooding and poor visibility in heavy rain."
Thunderstorm activity was expected to die away by 9pm.
However, the slow-moving weather system bearing the foul conditions was expected to linger until the weekend, said MetService weather ambassador Bob McDavitt.
A swarm of waterspouts spotted in Auckland's Waitemata Harbour yesterday sent Twitter and social media users into a frenzy.
Mr McDavitt said they could reappear today or tomorrow because the weather system that brought them yesterday remained in place.
"Warm, moist air, combined with converging winds in the lower levels of the atmosphere, and day time heating," he said. "If you hear thunder, seek shelter."
An update is expected by 2pm.
- APNZ