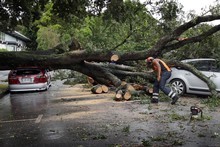 Staff at an Auckland school had a lucky escape yesterday when a large tree snapped and flattened six parked cars.
The oak at Epsom Girls' Grammar could be up to 95 years old and split apart just before midday.
Principal Madeline Gunn said the tree had been checked late last year and there was no indication then that there was anything wrong with it.
"It crushed six cars, five of them belonging to staff members and one to a visitor to the school.
"We were just so lucky it happened when all the students were in class. There were no students or staff walking around - otherwise it could have been dreadful," Ms Gunn said.
The tree's exact age wasn't known but the school celebrated 95 years this week so she believed it could have been planted then.
Trees on the school grounds were checked routinely, Ms Gunn said.
An Auckland Council spokeswoman last night said a council arborist who examined the tree found it was affected by white fungi. A consent was granted in 2010 to prune it.
Ms Gunn said some of the school's property staff were planting close by when the tree came down. "It happened very suddenly. They heard a crack and then it fell, but there wasn't any warning."
By Andrew Koubaridis @A_Koubaridis

Email

Andrew